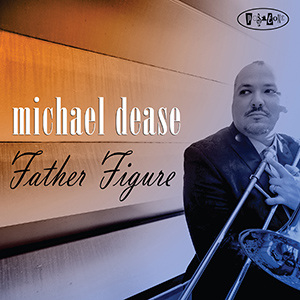 The brand new Dease disk, "Father Figure", not only casts the trombonist in the role of leader but also mentor.  He, Glenn Zaleski (a young pro) and Behn Gillece (vibraphone) are the veterans in an ensemble that also features bassist Endea Owens, drummer Luther Allison plus alto saxophonists Markus Howell and Immanuel Wilkins.  Ms. Owens and Mr. Allison make for an impressive rhythm section throughout, her active lines not just supporting but also offering counterpoint while his cymbal work is exemplary as are his choices of when to "push." Howell appears on 6 of the 11 tracks; he has a bright sound and many of his phrases joyfully dance above the rhythm section.  Wilkins, still in his teens, seems to have a more supportive role on his 4 appearances but does get off a raucous solo on the opener "Church of the Good Hustler." Mr. Gillece appears on most of the tracks and his vibes sound mesh nicely with the different lineups on the disk. His rippling sound is a highlight on Dease's "Brooklyn", named for both the borough in which his family lives and also for his baby daughter.
There are numerous highlights throughout, among them the playful "Marian The Librarian" (from Meredith Wilson's "The Music Man").  Dease and Zaleski caress the melody as the rhythm section dances delightfully in support. That quartet return to the Broadway and Hollywood hit for a sweet turn through "Till There Was You", the melody lovingly played on trombone and followed by a jaunty solo.  Michael Howell's "The Pursuit for Inspiration" is a medium-tempo ballad with Dease and Howell playing the melody – the young alto saxophonist plays a fine, assured, solo while Ms. Owens' counterpoint stands out.  "Annette's For Sure", from the pen of trumpeter Claudio Roditi, is a sweet romp with strong solos from the leader, Zaleski, and Howell. The quintet (with Gillece and Howell but minus Zaleski) visit the blues on "Riff Raff", a sweetly-played tune from trombonist Grachan Moncur III with excellent solos all around.  Gillece takes his over the rhythm section only and it really shines.  The title track closes the album on a bop-ish note with the leader creating a snappy melody and a sparkling solo (including a sneaky quote from "Parisian Thoroughfare" at the onset.) Ms. Owens take a short but excellent break before Zaleski shows off his Bud Powell-like chops.
With "Father Figure", Michael Dease shines the spotlight on a fine group of musicians, several of whom he has worked with during his tenure on the faculty of Michigan State University. He's generous with solo time for the members of the ensemble but don't lose of the sight of the fact that he himself is a fine soloist, often with a most handsome tone. This music is a delightful way to spend the day.
Step Tempest – Richard Kamins   http://steptempest.blogspot.com