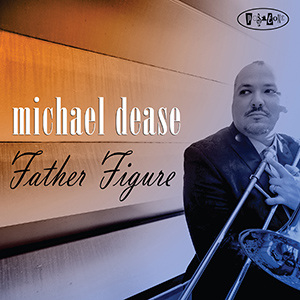 On his ninth CD (third for Posi-Tone), Michael Dease cuts loose with a wildly swingin' post-boppin' assemblage of talent on vibraphone, piano, bass, drums and two alto saxophones wherein the trombone man serves as Father Figure to some crazily talented youngsters and veterans alike (pianist Glenn Zaleski and vibraphonist Behn Gillece shine throughout) on originals and well-picked covers, or, as we like to say in the music-listenin' business: discreeto pickos.
Leading off with a tune Dease wrote specifically with a scene from Robert Rossen's 1961 film The Hustler in mind, wherein Fast Eddie Felsen walks into the home pool hall of Minnesota Fats, calling it the "Church of the Good Hustler," he follows it up with "Brooklyn" (for his daughter, not the city) and "Cry of the Wolf" (they say the howl of the arctic wolf can be heard for 10 miles across the tundra. It's a tortured, anguished sound.) Having two altos in your jazz band means you must cover Jackie McLean. Here, Grachan Moncur III's "Riff Raff" is an exquisite recreation of a blues off McLean's 1964 Destination Out album.
Having played in the band of Brazilian trumpeter Claudio Roditi (as well as in the bands of Christian McBride, Roy Hargrove, The Heath Brothers and Rufus Reid), Dease covers Roditi's "Anette's For Sure" before tackling Mulgrew Miller's "Wingspan" and even "Marian the Librarian" and "'Til There Was You" from Meredith Wilson's 1957 Broadway musical, "The Music Man." He closes with the title track, written for his bassist Endrea Owens, who was his student at Michigan State University. It sounds eerily similar to "All God's Children Got Rhythm," the jazz standard which came from the 1937 Marx Brothers movie A Day at the Races.
Dease received his Masters from Julliard to quickly become an in-demand session cat on CDs by Alicia Keys, Paul Simon, Elton John and Neil Diamond. He's now well on his way to becoming one of the most respected new 'bone men in the business.
Classicalite.com – Mike Greenblatt