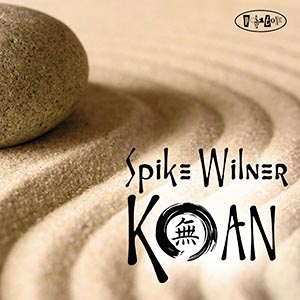 Pianist and composer Spike Wilner, a native of Manhattan, may be best known for his "night job", manager of both Smalls Jazz Club and its next-door neighbor, Mezzrow.  He's also quite an accomplished pianist and band leader; "Koan" is his 10th album as a leader and 3rd for the Posi-Tone label.  The CD, like his previous release, "La Tendresse", is a trio date, this time with Tyler Mitchell (bass) and Anthony Pinciotti (drums).  The 12-song program features excellent originals, jazz classics (including two compositions by Duke Ellington) and a pair of standards.
One can hear from the get-go that this is an ensemble who have spent a good deal of time working together and listening to each other.  When they "swing", as they do with a vengeance on Tadd Dameron's "Hot House" or gently on Wilner's "Iceberg Slim", the three musicians do so in service of the melody and with the joy of improvisation.  The Ellington works, 1940's "Warm Valley" (revived on Duke's trio date with Max Roach and Charles Mingus) and 1938's "Gypsy Without a Song", have such expansive melodies, the former with its gentle melody that stretches over several verses and the latter with a Latin tinge and gentle swing.  One of the more experimental works is the leader's "Monkey Mind", which starts gently but Wilner begins adding sheets of notes over chattering percussion and intermittent bass lines.
The final three tracks bring the session to a close on quite a high note. "
Young at Heart
" (the melody composed by Johnny Richards) opens quietly with Wilner playing the melody slowly (his left hand sounds, early on, like Vince Guaraldi's left hand "
Cast Your Fate to the Wind
"). After the rhythm section enters, the energy slowly picks up but the pianist's solo is a series of variations on that melody.  Next is the trio's impressive exploration of Ornette Coleman's "
Lonely Woman
" (certainly the late saxophonist and composer's most oft-recorded work.)  Wilner's left hand, along with Mitchell's bass lines, not only really swing but there are moments, especially after the bass solo, when the music has a folk music feel. The inventive nature of the trio's interactions push the piece forward right up to the drum solo and, after that, it's back to the theme.  The album closes with "
Blues For the Common Man
", a Wilner original that takes its theme from Aaron Copeland's famous "
Fanfare….
"  After a formal opening with Copeland's melody, the piece drops into a slow blues a la Percy Mayfield.  The pace picks up several notches during the piano solo that juxtaposes familiar phrases with long, flowing, single-note runs.  Right before the close, the trio slows down, Wilner takes more of a gospel tack (big, bold, chords) and the music and come to a satisfying close.
"Koan", as a musical meditation, works well in the early morning and late at night, windows open, the sounds of the outside either waking up and quietly disappearing.  Spike Wilner has such a creative  mind, teasing idea out if songs one might think have been wrung dry over the years.  This is a great program to enjoy from start-to-finish and I heartily recommend that you do.
Step Tempest – Richard Kamins     Step Tempest blog