Ken Fowser – Right On Time – Posi-Tone Records PR8191 56:02 ***** 5 stars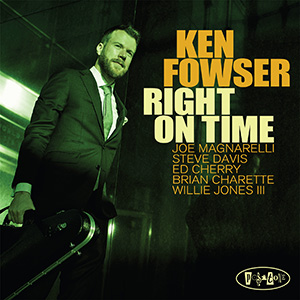 On his eighth release for Posi-Tone Records, Ken Fowser has established his credentials as a composer and band leader. Fronting an impressive sextet (Joe Magnarelli/trumpet; Steve Davis/trombone; Ed Cherry/guitar; Brian Charette/organ; and Willie Jones III/drums), Fowser opens stylishly on "Stand Clear Of The Closing Doors". With organ guitar and drums anchoring the bluesy jam, the saxophonist solos first with a concise straight jazz feeling. Charette follows on organ, displaying accessible soul chops before handing it off to Ed Cherry's groove-based hooks. The composition (all originals) has chord modulations, a cool vamp and repeat chorus. With Latin-infused imagery, "Samba For Joe Bim" reflects the band chemistry, showcasing fluid sax runs and nimble drum accents. On "Duck And Cover" the group emulates straight ahead jazz with an agile solo on saxophone that segues to finger-snapping runs by trumpeter Joe Magnarelli and trombonist Steve Davis. Charette's sprightly organ percolates, driven by Cherry and Jones. The arrangement skills of Fowser are on display with " No Filter". The introduction displays harmonic elasticity as Fowser, Davis and Magnarelli intermingle with fluency. Every instrumentalist gets to solo with finesse and colorful inflection. It is classic jazz and consistent with great jazz ensembles of the past. The group reunites at the end with glowing texture and eloquence.
In a change of pace, "Don't Let Life Pass You By" is structured by a gentler 3/4 time signature. Fowser's "blue" saxophone has both delicacy and potency with the right amount of flourish. Charette's airy, melodic solo is hypnotic and Cherry's wistful guitar sways with relaxed inflection. There is an organic murmur inside the jam. Drummer Jones kicks off"On My Way" with attitude. This medium-swing number features dynamic solos from Fowser and Charette with several drum fills and syncopation. The horns return for "Keep Doing What You're Doing". Revisiting blues/jazz, the sextet glides with fierce precision, replete with "nasty" solos by everyone. When they combine it is a tapestry of in-the-pocket erudition. "Fowser Time" is a full ensemble arrangement with a triple lead (sax, trumpet and trombone). Charette anchors the rhythm section. Fowler gets things started with a muscular solo framed by a chord modulation. Davis' saucy trombone is next and is followed by Cherry's hook-driven run and Magnarelli's crisp trumpet notation. Charette adds another soul jazz solo before the triple lead wraps things up with judicious timing. In a nod to melancholy, Fowser and Cherry share a harmony lead in a low-key waltz ("A Poem For Elaine"). There is considerable atmospheric resonance as Fowser, Cherry and Charette solo respectively. The finale "Knights Of The Round is vibrant and up tempo. The reed/brass combination is blended with adroit cohesion. In succession, Fowser, Manganelli, Cherry and Charette cook with ferocity. A well-deserved solo by Jones leads to the big finish.
The aptly titled Right On Time is a great jazz achievement.
Robbie Gerson – Audiophile Audition