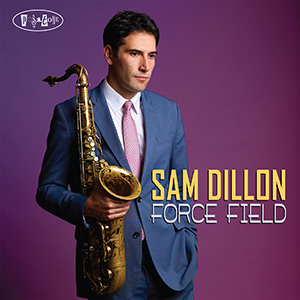 Even boasting a very personal diction when discoursing, the young American saxophonist Sam Dillon brings an impressive amount of different influences to his ripe sophomore album, Force Field. Strongly inflected with the hard bop idioms from the 50's and early 60's, Dillon, who possesses an outstanding technique, offers a classic-derived repertoire bolstered by creative spins that show how swinging bop and post-bop traditions can be absorbed, transformed, and delivered fresh with a stamp of his own.
Dillon is primarily assisted by a rhythm section that comprises Theo Hill on piano, David Wong on bass, and Anwar Marshall on drums. However, he changes configurations, which range from trio to sextet, with the addition of guest musicians on selected tunes. They are alto saxophonist Andrew Gould, trumpeter Max Darche, and trombonist Michael Dease, who provides one of his colorful tunes to the song list, namely, "Go For The Jugular". Flaunting a warm horn arrangement in a style reminiscent of Art Blakey & The Jazz Messengers, this straight-ahead piece features all guests as soloists, with Dillon spearheading the sequence with rich Coltrane-isms that gravitate toward the unbeatable fluency of his Blue Train-phase.
Before that, the title track packs a punch with its grooving modal post-bop force and a scrupulous, dancing melody composed of attractive intervals. If the theme statement infuses a bit of the Sonny Rollins' melodic charm, the rest is purely Coltrane/McCoy stuff, with Hill employing exuberant rhythmic spasms buoyed by opportune left-hand jabs, and Dillon oscillating between effortless roundness and smart obliquity in his lines. This spiritual atmosphere is partly passed to Dillon's uptempo "Hit It", whose main statement also incorporates that joyous briskness that characterizes the music of Lee Morgan and John Coltrane. Marshall is called into action here, exhibiting his drumming skills after effusive the solos and before the repositioning of the theme.
Hill switches to Fender Rhodes to bring that post-bop pulse-quickening to Chick Corea's "Straight Up and Down", another uptempo piece with a bouncy gait and incisive trumpet lines akin to Woody Shaw and Freddie Hubbard. He continues to explore the famous electric piano in a sentimental rendition of "Marionette", a discoverable composition by Swedish pianist Lars Jansson, which contrasts with the familiar bebop flow of Parker's "Dexterity", here delivered in the classic sax-bass-drums format.
With a relaxing bossa temper, "Shift" is the slowest and perhaps the less interesting tune on the record. Predominantly adhering to 4/4 motions and burning up the miles with characteristic sounds, Force Field is uneven, but still enclosing moments of pure jazz passion worth checking out.