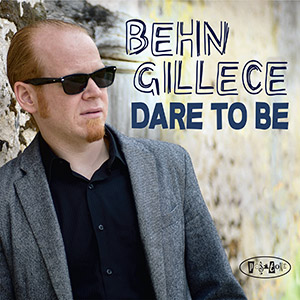 With the recent passing of the great Bobby Hutcherson, inarguably one of the five most important jazz vibraphonists in the instrument's (relatively brief) history, east coast vibist Behn Gillece's new recording, Dare to Be, is coming along at just the right time. When an icon leaves us, it is natural to wonder who will fill the void, or who will carry on the legacy the artist established during his lifetime. Or, to wonder if that legacy will be carried on at all. Given that there are so few major jazz vibraphone recording artists, compared to on other instruments, the jazz world is lucky to have Gillece, Warren Wolf, and a rather small handful of fellow vibes players who are pushing the music forward, while clearly aware of and influenced by the contributions of Hutcherson and other giants of the instrument who are no longer with us.
Gillece has already firmly established himself as not only one of the best jazz vibraphonists of his generation anywhere in the world, but also an important contributor as both an instrumentalist and composer to the New York City scene, which remains, in 2016, the jazz Mecca. After releasing multiple albums as a co-leader with saxophonist Ken Fowser for the Posi-tone label, followed by 2015's Mindset (his debut as a leader), Gillece is venturing out on his own here for the second time, with a collection of mostly original pieces. As is the case with Gillece's previous recorded work, Dare to Be stylistically locates itself under the wide umbrella of the modern post-bop genre.
One notable difference with this latest recording is the inclusion of guitar, rather than piano, as the primary harmonic instrument—a decision which profoundly effects the overall sonic quality of any vibraphone project. In the past, Gillece has associated with some of the New York scene's finest pianists, including David Hazeltine, with whom the younger vibist studied in years past. The decision to use young guitarist Nate Radley (a product of the New England Conservatory, and a protégé of John Abercrombie) gives Dare to Be a much different vibe, as the sonic blend of vibraphone and guitar creates a more open, airy, and at times ethereal quality.
The record opens with Camera Eyes, beginning with a rubato statement by vibes and guitar, which sets the tone for everything to follow throughout the next ten tracks. The composition features Gillece signatures: a tasteful melding of swing and Latin or straight rhythms, metric modulations, stop time/ hits, and a melody that is both accessible and compelling. Gillece uses this first track to also re-establish his aesthetic on the vibraphone; unlike fellow four-mallet players like Gary Burton, who employ an almost pianistic approach at times, Gillece improvises single-note lines. In this way, his playing is more reminiscent of the aforementioned Hutcherson. Gillece seems to be searching (and often finding) the perfect melodic phrase, connecting lines over the underlying harmony, rather than employing a chordal style during his solos. He saves chordal forays, of which he is most capable of executing with technical precision and a balanced tone, for statements of the melody and comping for other instruments.
Camera Eyes eventually settles into a mid-tempo swinger, a niche within which Gillece always feels supremely comfortable. One distinguishing feature of his playing is his impeccable sense of time—his lines never sound rushed or half-baked. Everything he plays makes musical sense, and strikes the right balance of theoretical/harmonic integrity and emotional content/soulfulness. Radley quickly establishes that he shares the vibist's general approach, with a swinging solo that favors taste over flash.
The second tune, From Your Perspective, is an example of Gillece being completely comfortable in his own skin, as a composer. The piece is not blazing new conceptual trails, nor does it aspire to—it's a buoyant, boppish melody reminiscent of any number of great records from the 50's, and serves as a fine vehicle for vibes, and also guest trumpeter Bruce Harris, who seems somewhat cut from the same cloth as long-standing New York heavyweight Brian Lynch.
Amethyst takes the music in a direction this writer has previously not heard Gillece explore: slow blues. Radley launches into a chordal solo, and Gillece wisely stays mostly out of the way, adding just the occasional chord. Again, Gillece's superior sense of time/groove is on display once he starts his solo—in fact, his work here is reminiscent of the great Milt Jackson, the most masterful blues player to ever pick up a pair of mallets. Gillece's tone and touch are more delicate… just different… than Bags, but he understands, as the late master did, that for a jazz musician, time is everything.
Signals begins with a dominant seventh chord/sharp nine figure in the tradition of Horace Silver's classic Ecaroh (which is "Horace," spelled backwards). Soon, an up-tempo swing groove is established, with a nice half note-based melody that allows the vibraphone to sing. Radley almost sounds like Pat Metheny at times, but without the signature Metheny-isms (Radley has his own isms). He passes the torch to Gillece, who demonstrates an important truth about jazz improvisation: you need technique to burn, if you want your solos to sound relaxed and fluid. Gillece clearly has technique to burn—the listener gets the sense that if this tune was twice as fast (that would be very fast!), he'd still be able to hang.
In case you were questioning Gillece's ability to make music with all four mallets, he opens Drought's End with a short, arpeggiated solo intro, with dampening and subtleties reminiscent of Burton. The melody, played by trumpet and guitar, as the vibraphone lays down chords, reminds of the compositional style and tone of the great trumpeter Tom Harrell. Harris has clearly done his homework and listened carefully to Harrell (who, among serious jazz artists, hasn't?). Radley's guitar solo is both logical and satisfying, underscoring these said qualities conveyed collectively by the record's improvisations. The vibes work here sounds relaxed and swinging… as usual.
Next, Gillece pays tribute to Hutcherson, with the hauntingly beautiful, simple Same Shame (from the Blue Note album "Total Eclipse," featuring a young Chick Corea–arguably one of the finest from the entire Blue Note catalogue). Interestingly, Gillece's improvisation here conveys the sense that he has appropriated all the best elements of Hutcherson's vibraphone style—technical command, swinging time, deep harmonic knowledge, and love of melody—while crafting a personal voice devoid of direct imitation of the older master's body of work. This is a gem of a tune, re-imagined convincingly here, and one can only hope its inclusion will spur more jazz artists to explore Hutcherson's rich catalogue of original compositions.
Live It again is reminiscent of Harrell, by virtue of the upbeat, straight-eight groove and warm trumpet tone. Gillece executes some flawless double-time phrases during his solo, and seems to enjoy playing over these changes. Harris demonstrates a nice use of melodic simplicity and space, as the rhythm section of bassist Ugonna Okegwo and drummer Jason Tiemann cooks underneath.
The title track sets up an Eddie Harris-esque groove, but the composition is contemplative and moody, rather than funky and groovy. This is one of Gillece's more interesting compositions on the date, with a static harmonic vamp and staccato melody. Gillece's short solo makes use of repeated note figures, before returning to the head. The track is tight, succinct, and seems like a good candidate for radio play.
Trapezoid is familiar (and welcome) Gillece ground—fast swing, with a half-note melody, a la Coltrane's Giant Steps… followed by the vibist's impressive, up-tempo vocabulary: arpeggios, cleanly executed fourth patterns, playing across the bar line, sustained notes, pentatonic runs.
The date closes with the beautiful, classic Johnny Mandel song, A Time for Love. It's a nice way to close a record of mostly original music; the vibraphone is a perfectly capable instrument for interpreting a standard melody, without the support of a horn player. Gillece proves that here.
As a lifelong devotee of the recently passed vibes great Bobby Hutcherson, it's comforting for this writer to witness the burgeoning career of Behn Gillece, as he continues to establish his own legacy on jazz vibraphone; as a thoughtful, virtuosic improviser and composer. Luckily there are still labels like Posi-tone, committed to supporting the efforts of Gillece and other worthy, young artists. Let's hope Gillece will be making records for decades to come.
Anthony Smith – website