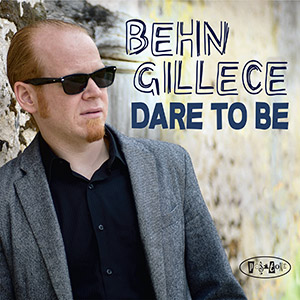 As crazy as it may sound, learning how to be your true self doesn't happen overnight. It takes quite a while for musicians to get comfortable in their own skin, find their real voice, and dare to move forward toward their musical ideal. For vibraphonist Behn Gillece, that level of comfort is now a reality and the moment is right and ripe for such a move.
After releasing a series of well received albums in collaboration with saxophonist Ken Fowser and making waves with his debut – Mindset (Posi-Tone Records, 2015) Gillece returns with a new band and vision for his stellar sophomore outing. Using the great Gary Burton's Duster (RCA 1967) as model and touchstone here, Gillece convenes a piano-less quartet that focuses on the combination of his vibraphone and Nate Radley's guitar. The two complement each other in every way. If one takes off on a solo flight the other is there with firm yet cushiony comping; if one needs a boost, the other digs in the spurs; and if one is looking to move in a different direction, the other is always right there to make that a reality, amplify the intentions in the music, or, if needed, cut against the grain. It's a perfect pairing, pushing the music to great heights at every turn.
The majority of Dare To Be's ten tracks are originals that speak to the leader's openness, cleverness, and melodic soul. "Camera Eyes" moves from a dreamy vibes and guitar rubato zone to full band swing with bassist Ugonna Okegwo and drummer Jason Tiemann driving the car; "Amethyst" strikes the perfect lazy and loping pose, as bluesy and woozy thoughts carry the day; "Live it" – one of several tracks to bring guest trumpeter Bruce Harris aboard – delivers a highly catchy and cheery melody over a straight eighth foundation; and "Trapezoid" cooks with high heat and delivers one of Gillece's strongest solo showings on the date. The two covers – "Same Shame" a husk of a Bobby Hutcherson vehicle that leaves plenty of room for exploration, and "A Time For Love," a Johnny Mandel and Paul Francis Webster ballad classic that closes the album – sit well in the mix, but Gillece's own music is the real draw here.
Dan Bilawsky – Jazzed Magazine