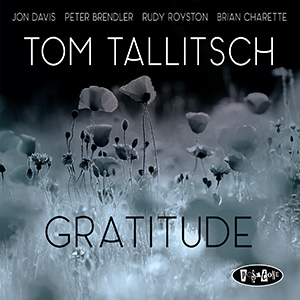 Tenor saxophonist Tom Tallitsch is an Illinois-bred,
New Jersey-based bandleader and Gratitude is his
seventh album a leader. Tallitsch plays Straightahead
postbop, tossing a few Curve balls to keep things
interesting. He is Of the generation(s) Of players that
doesn't rely on the Great American Songbook for
material (9 Of the 11 tracks herein are Originals) and he
dips into the rock world for inspiration.
The album opens with "Terrain", a surging, modal
midtempo tune evoking '70s McCoy Tyner. Tallitsch
has a notable tone—burly approach of Rollins,
flow of Dexter Gordon and cool of Lester Young, etc.—
but no one influence dominates in a fascinating blend
Of robustness and yearning. Drummer Rudy Royston
kicks up as much dust (and propulsion) as Art Blakey and Jon Davis' piano is spare, slightly percussive (that
Tyner influence) and possessed of an easy lyricism, He and Tallitsch share a very measured approach. taking
an almost leisurely tack in constructing their solos. Fleetwood Mac's "Gold Dust Woman" might not
seem the kind Of fare a jazz combo might tackle, but Tallitsch shows its majesty. The saxophonist invests
some elegant blues feeling into the proceedings while Davis, Royston and bassist Peter Brendler slyly add a
soul-jazz groove more implied than overt and guest Brian Charette deftly adds slightly gothic-sounding
organ. These lads close out the program with another seemingly unlikely tune, Led Zeppelin's "Thank You",
essayed with a gospel feel thanks to organ (especially) and Davis' sparse, Slightly Thelonious Monk-like
Chords. Tallitsch gets to shine in a poignant manner without ever getting Cloying Or going Over the top.
Gratitude is an album that displays a rare and very engaging balance Of fervor and restraint, expressive
ace musicianship and terseness.
by Mark Keresman – New York City Jazz Record