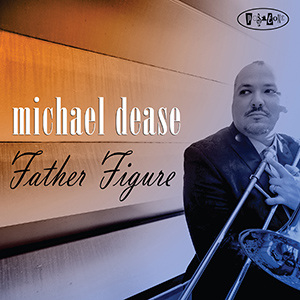 A UT student drummer has made his professional debut on a recently released album.
Luther Allison, a junior jazz student in UT's School of Music, recently recorded on jazz trombonist Michael Dease's newest album, Father Figure, which was released on April 22.
When one of his professors recommended him for the drummer at the Jazz Trombone Institute summer camp in Brevard, North Carolina, Allison never imagined the doors that would open for him.
"My father would always tell me 'Always be ready because you never know when people will discover you,'" said Allison.
Dease was performing at the camp and was impressed by Allison's talent on the drums. It was there that Dease asked Allison to perform on his album.
In early October, Allison drove eleven hours from Hess Hall to Brooklyn, New York, to meet with Dease and other professional and collegiate musicians performing on the album. They spent the following week rehearsing, recording the album, and performing shows in New York and Michigan, getting little sleep and practicing through the night.
"I was having the time of my life," said Allison. "I was sleeping for an hour and a half or two hours a night, but my adrenaline was pumping the whole week, so missing sleep wasn't an issue."
"I knew right away, from his phone interview, that I was about to meet a special soul full of passion and humility," said Dease. "After our first rehearsal I was convinced of his immense talent, which is somewhat hidden by his sincerity and maturity."
The opportunity to record with Dease allowed Allison to showcase his skills but also taught him a valuable lesson.
"The biggest lesson I learned from this experience is to pace myself, whether it be musically or in my life in general," said Allison. "If this is the career path I want to have in the future, I have to be in shape mentally, physically, emotionally, and professionally to keep up with the lifestyle."
Allison is already a disciplined musician. He practices five hours a day and maintains a 3.7 grade point average. He also takes to heart the advice and constructive feedback of his professors and mentors.
"Mentorship is something I think is imperative in bringing up the next generation. In order to be able to keep tradition going, you really need your predecessors to set the tone for what you need to do in the future. Dease did an extraordinary job in taking me under his wing and introducing me to other musicians. It's both humbling and exciting—it makes me want to work that much harder because I want to live up to his expectations," said Allison.
Recording on Father Figure has opened academic opportunities for Allison. He plans on continuing his education in music performance, with a focus on jazz, at the master's and doctoral levels. He wants to perform and tour early on in his career but hopes to eventually teach at a university.
"Luther did a standout job in my band," said Dease. "I'm proud to have captured those moments forever on disc, and he brought the highest level of attention, positivity, and skill to my recording session."
Amy Blakely