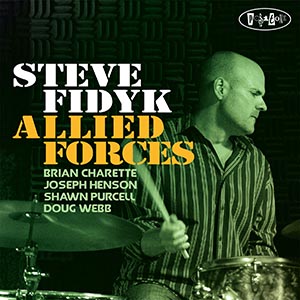 One realizes just how special Allied Forces (Posi-Tone Records) by drummer/composer/bandleader Steve Fidyk is about halfway through the Monk opener, "Evidence."
This is one swinging quintet dealing with Monk's myriad changes and convoluted thought processes in a shiny new irresistible way. It has that good new-car smell about it that hooks you right in. And it's like that for the duration, partly because guitarist Shawn Purcell and tenor saxist Doug Webb make the absolute most of their opportunity here.
His own "Good Times" switches from common-time (4/4) to a waltz (3/4) mid-song and it's in that split second of a changed time signature where, again, you're hooked right in to Fidyk's oh-so-hip wavelength. Marc Free's production is such that one can hear every instrument, the percussion discussions, the high-flying solos where even under the epicenter of a tantalizing solo, some mighty rumbling is going on.
Fidyk has worked the DC area for 25 years. He studied under the legendary Joe Morello [1928-2001]. As part of numerous big-bands (check out the "Army Blues Tribute To Buddy Rich" clip below), he's played with The Jerry Lewis MDA Telethon Big Band and numerous orchestras. He's influenced by the drum work of Billy Higgins [1936-2001] on such seminal recordings as Lee Morgan's "The Sidewinder" and Eddie Harris's "Freedom Jazz Dance." His own "Food Court Drifter" is a "blues in boogaloo style," according to the drummer in the liner notes. It will make you move as will "Doin' The Shake."
Charlie Parker's 1946 "Moose The Mooche" has Fidyk emulating another of his heroes, Mel Lewis [1929-1990] before the band gets lyrical, loose and romantic on "Portrait of Tamela," an original for Fidyk's wife of 25 years. Here, the suave tone of alto sax man Joseph Henson comes to the fore. "High Five" is Fidyk's update of Paul Desmond's 1959 "Take Five" that the Dave Brubeck Quartet made into the biggest-selling jazz single of all-time in 1961. "In My Room" is the Beach Boys ballad that Brian Wilson wrote in 1963 that's been universally hailed as one of the greatest songs of the rock era. It all ends with a drums/organ duet with Brian Charette (whose has his own terrific new CD out, Once & Future, on the same label) for "Shiny Stockings," inspired by the Elvin Jones/Larry Young moment on "Monk's Dream" from Unity in 1965
Mike Greenblatt – classicalite.com