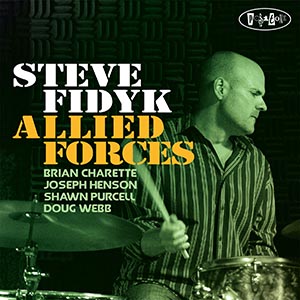 Drummer Steve Fidyk had some of his first rhythm tips from legendary Dave Brubeck drummer  Joe Morello. Fidyk studied hard, practicing non-stop, degrees at Wilkes College and a Masters at University of Maryland, a work ethic that rewarded with tours with the NY Voices and Woody Herman Orchestra. Fidyk's recordings include those with the U.S. Army Blues Jazz Band, and efforts with Posi-tone label mates saxophonist Walt Weiskopf, and organist Brian Charette, who returns the favor on Steve's new cd, "Allied Forces", alongside alto saxophonist Joseph Henson, tenor saxophonist Doug Webb and guitarist Shawn Purcell.
The musical ingenuity found here has a fun time with Monk, Bird, Frank Foster, EVEN Brian Wilson.
The place also gets sweatin' with Fidyk originals "Good Turns" and "Food Court Drifter", a tribute to the way Billy Higgins grooved along with trumpeter Lee Morgan. Guitarist Purcell contributes a funkified "Doin' The Shake".
Be sure to check out what this allied force does with "Moose The Mooche", Monk's "Evidence" and Brian Wilson's "In My Room".
Gary Walker – Morning Jazz WBGO