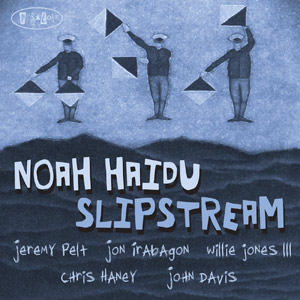 Slipstream – Noah Haidu (Posi-Tone Records) -The Los Angeles, CA-based Posi-Tone keeps finding new artists deserving of our attention.  Haidu, a Virginia native and graduate of Rutgers University, is no exception.  His debut session as a leader features the fine front line ofJeremy Pelt (trumpet) and Jon Irabagon (alto sax) with the solid rhythm section of Chris Haney (acoustic bass) and drummersJohn Davis or Willie Jones III (on 3 tracks).
The blend of Pelt and Irabagon, 2 players who know the history of their respective instruments vis a vis jazz, makes for intriguing music.  The opening track, "Soulstep", has the feel of early 1960s Horace Silver with its funky rhythms and "sweet" solos. "Where We Are Right Now" moves in similar fashion but the piece feels somewhat more exploratory – one hears the change in the shifting tempi (kudos to John Davis for really pushing the band.)  The pianist really dances over the active rhythm section, spurring on the bassist and drummer to a higher intensity.  Irabagon, who's best known for his work in Mostly Other People Do the Killing as well as being the winner of the 2009 Thelonious Monk Competition, sinks his teeth into a passionate solo.  Pelt, who has developed into a masterful player, takes a lovely solo on "Take Your Time", a ballad on which Haidu's solo builds quietly but firmly into a soulful expression. Pelt's bluesy solo on "The Trouble Makers" gives the piece a Jazz Messengers feel, a la the ensemble featuring Lee Morgan and Wayne Shorter. "Break Tune" blends the influences of Monk, Herbie Hancock and Geri Allen into a most funky concoction, the trumpet and saxophone trading phrases over Davis's "fatback" drumming.
The program also includes several trio tracks (sans sax and trumpet) – there is the fast-paced romp through Cole Porter's "Just One Of Those Things" and a sweet ballad titled "Float."  On the latter track, bassist Haney supplies fine counterpoint to the pianist's thoughtful solo work.  That's one of Haidu's strength in that he does not try to blow the listener away with prodigious technique – his solos unwind gradually, growing out from the melody or harmonic patterns.
"Slipstream" won't blow you away with fiery solos or breath-taking rhythms but impresses with its subtle variations on classic sounds, the short but pithy solos and the classy rhythm section work.  Noah Haidu can certainly play and, in his quickly maturing compositional style, he creates pleasing musical playgrounds for his band.  For more information, go to www.noahhaidu.com.
Here's the opening track of the CD, courtesy of Posi-Tone Records and IODA Promonet:
Soulstep (mp3)