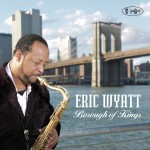 A lot of musicians like to boast they live in Brooklyn; Eric Wyatt was born and raised there and as the son of a sax player, Wyatt grew up knowing his Dad's friends, such of Thelonious Monk, Charlie Parker, Dizzy Gillespie, Gary Bartz and Sonny Rollins, who is Wyatt's godfather. Wyatt started out as a trumpet player but switched to saxophone after his father passed, playing a gold-plated tenor Rollins had given Charles Wyatt, and Rollins got the younger Wyatt's career off the ground.
Borough of Kings (due out July 22, 2014 from Posi-Tone Records) is Wyatt's fifth LP since his 1997 God Son debut, and it reflects the work of a jazz cat who's spent a lifetime absorbing the music's rich history firsthand. No, Wyatt isn't a Rollins clone, he sounds more akin to Kenny Garrett and early John Coltrane to my ears, straddling generations of styles.
His backing band for these sessions was Ameen Saleem (bass), Shinnosuke Takahashi (drums) and Garrett's pianist, Benito Gonzalez. A lineup of eight tunes of which six are Wyatt's, the composing style he reveals on Kings reflects that penchant for using tradition as a foundation for modernity, too. Take the song "The Peoples Champ," for instance. It glides effortlessly between minor and major key. But what makes it stand out further is how it's performed: Wyatt's tenor rains down its own sheets of sound in drawn out notes, while Gonzalez' piano pops. Takahashi is downright explosive on drums during minor part, breezily waltzing during major part.
Takahashi veritably explodes on a lot of songs, making other Wyatt originals such as "One For Hakim" and "Ancient Chinese Secrets" also crackle with energy. On the former, Saleem holds down the swing so securely that the drummer is free to stretch out. Nonetheless, it's primarily Wyatt's show and he puts on a nice one for the titular track. Beginning with a descending figure on the rubato opening, the song suddenly lurches into a rapid tempo where Wyatt stretches his notes to state the theme and then grooves with the rhythm, relying on reedy tone as much as note choice. Later on, Gonzalez solos and then trades fours with Wyatt.
Wyatt's nimbleness in sharing the front line with other horn players is highlighted on "Can He Come Out," which is acoustic funk, except for Wyatt's electrified sax. Here, he trades licks with trumpet player Duane Eubanks. On "What Would I Do Without You," Wyatt is blending in well with trombone player Clifton Anderson.
Gonzalez's one contributed song might be the most soulful of the batch, and one that has a nice groove to it; "Quest" features Wyatt on soprano sax, and he adapts his style to the straight horn without any hitches. The only other track not penned by Wyatt was penned by the great John Coltrane. At first, you're not aware that the funky number that Wyatt riffs over is "Countdown" until the band goes into swing mode about a minute in and the saxophonist plays those trademark lines. But in typical Wyatt fashion he doesn't rush things, playing it smooth and in the pocket instead. Ultimately, it's more satisfying that way.
Eric Wyatt makes good on his enviable upbringing by evoking the masters he's met as a child while finding his own voice to do it. Borough of Kings is pure, Brooklyn-bred jazz at its finest.