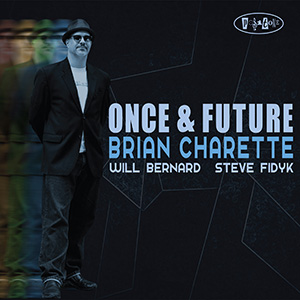 Some guys are just too cool. Hammond B-3 organ master Brian Charette is one of those guys. Not only does he look cool, he knows his B-3 history, wrote a book (101 Hammond B-3 Tips), and for his 10th CD, Once & Future (Posi-Tone Records) he performs 14 tracks of super-cool B-3 funky jazz by a litany of great B-3 composers including himself. With only guitarist Will Bernard and drummer Steve Fidyk, Charette has dug down deep to come up with some gems in homage to his heroes — of which there are many.
Fats Waller's "Jitterbug Waltz" and Larry Young's "Tyrone" is a great one-two punch to start. (Yes, Fats played B-3 prior to becoming an ardent stride piano legend.) The "Latin From Manhattan" is an original tribute to the famous organist of The Copa in Rio, Ethel Smith. Somehow, some samba creeps in and it feels good. "Da Bug" is by 1960s New York City organist Freddie Roach.
Etta James owns "At Last" but this spunky instrumental version captures that melody fit to do your own singing along to. "Hot Barbecue" might've been written by another great B-3 man, Brother Jack McDuff, but the inherent drama of prog-rock organ icon Keith Emerson, who killed himself this year because his fingers were too crippled to play anymore, is all over this one. Charette not only digs '70s superstars Emerson, Lake & Palmer, but he has a natural affinity for Deep Purple's Jon Lord, whom he emulates on a song written by James Brown, "Ain't It Funky Now." Using Grant Green's jazz cover as a template, he resurrects Lord's sweeping rock vision, coupled with a nod to Tower Of Power who also covered JB's skin-tight funk. Of course, any organ album has to have a little Jimmy Smith and here it's "Mellow Mood."
The closer is Charette's own "Blues For 96" which he wrote when he lost his rent-stabilized New York City apartment. It is fitting to note that this is the building Led Zeppelin used as the cover shot to Physical Grafitti.
Mike Greenblatt – classicalite