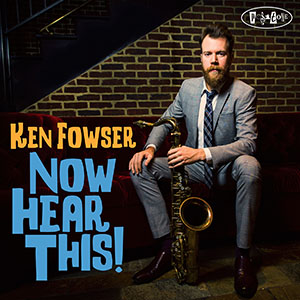 Tenorist Ken Fowser isn't one to waste time or mince words on distractions peripheral to musical expression, particularly when there's a seasoned band under his name available to engage in the same. Now Hear This! reflects that directness of character and intent in both title and content with a program of eleven originals built for hard, no-frills blowing. His colleagues on the date are comparably-minded, greeting the concise postbop vehicles provided with collective élan and an emphasis on candor and precision.
"Blast Off" a credible opener in conveying the larger intent behind the album with a tight, propulsive head and biting solos from the leader, trumpeter Josh Bruneau and pianist Rick Germanson in short order. "Hear and Now" dials down the tempo slightly, but the rhythm section led by Germanson still swings strongly on the flowing, vampish beat anchored by the supple walking line from bassist Paul Gill. Bruneau switches to the rounder tones of flugelhorn for his statement before deferring to a piano sortie stamped with sharper angles.
"Blues for Mabes" gives a shout out to septuagenarian pianist Harold Mabern, Jr. and the sort of boogaloo-infused burners that were the elder's buttered bread in the employ of bandleaders like Art Blakey and Lee Morgan. An aggressive rolling backbeat works as flexible springboard for loose-limbed tenor locution answered by Bruneau's crisp trills and runs. Germanson's the real star of the piece though with a block chord showcase that's deep in the pocket without feeling constrictive. That balance of clean, logical linearity and emotive thrust carries through across the entirety of the session.
None of Fowser's tunes stray too far from the winning formula of past masters of the idiom, but that fealty is part of the music's underlying charm. "One and Done" and "Fair to Middlin'" echo their numerous antecedents in the venerated Blue Note and Prestige catalogs with familiar hardbop-minted structures while retaining enough original Fowser-inculcated DNA to resist the charge of opportune imitation. Backed up by top gear blowing and a palpable sense of shared purpose and propriety the results can't help but come across as winsome and worthwhile.
Derek Taylor – Dusted Magazine