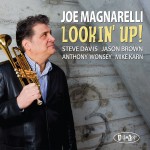 Longtime trumpet sideman Joe Magnarelli first bowed as a leader in 1995 (Why Not) but Lookin' Up! (out June 24, 2014) marks his first for Posi-Tone Records. The welcoming environment the label offers for straight-ahead cats like Magnarelli is one good reason why Lookin' Up! is already off on the good foot.
The other is because this adjunct professor of music at the Julliard School of Music and Rutgers University presides over a master class in mainstream jazz. Assisted by Steve Davis on trombone, Anthony Wonsey on piano, Mike Karn on bass and Jason Brown on drums, Lookin' Up! teaches of the importance and the majesty of post-bop jazz not with words but with sounds.
The trumpet/trombone front line defines that sound in this case, as Davis brings his accomplished chops to bolster Magnarelli with his counterpoints, done with style as on the outro to Magnarelli's composition "44," harmonizing like hand-in-glove during "Third Set" and "Easy Transition," and often following up the trumpeter's hot solos with cool-toned ones; "In Walked Lila" is one example.
But Magnarelli shows time and again he gets the job done on his own, architecting a thoughtful aside on "44″ and easily conquers quick-tempo swingers like "Suddenly It's Spring" with crisp trumpet flights, followed by Wonsey's own, block chord-rich solo. Magnarelli's muted horn acuity is on display for the tracks "Blue Key," a bossa nova rhythm set to a ballad melody and during an agile take on John Coltrane's "Miles' Mode" backed only by Karn and Brown.
Ballads, however, are where Magnarelli shines the brightest; he tackles Jimmy Van Heusen's classic number "Darn That Dream" with a clean delivery that's sensitive to the beauty of melody, as Davis sits out. That warm, wistful tone is also put to great use on Magnarelli's own pretty number "Inner Beauty."
Lookin' Up! is simply damned good, no-nonsense, straight-ahead jazz carried out with veteran proficiency. Anyone who likes their jazz served up that way will have no problem at all with this disc.