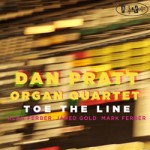 www.allaboutjazz.com
Toe the Line is a phrase which signifies unwavering obedience to a doctrine, structure, or rule, but the Dan Pratt Organ Quartet defies such a rule. The group conforms to the rule of playing with flair, but little else.
Pratt, who plays tenor saxophone, was a member of the Monterey Jazz Festival High School All-Star Band, and his professional career includes work with Joe Lovano, the Vanguard Jazz Orchestra, and the Christian McBride Big Band.
"Houdini," the first of eight Pratt originals, opens with organ and drum laying down the rhythm. Pratt leads, echoed by Alan Ferber. The tenor and trombone harmonize, and at times they overlap each other. Shortly into the piece, Pratt takes off a bouncy, freestyle solo; Ferber solos as well. Throughout, organ and drums are in grooves of their own.
"Doppelganger" is aptly named. The term refers to the double of a living person—someone who bears a strong resemblance to another. The tenor begins a phrase and is joined by the trombone. At times, it's difficult to tell which instrument is playing. Then the tenor plays the phrase at a higher tone. After the opening sequence, Alan Ferber and Pratt take turns with solos. Jared Gold's organ serves not only as the rhythm instrument but also as the bass—a function it provides on all tracks. The horns revert to the opening phrase, playing without accompaniment at first. Then Mark Ferber joins in, skillfully playing snare, toms, and cymbals as if it were his solo. The song ends with sax and trombone harmonizing on the thematic phrase.
The lone cover, "The Star-Crossed Lovers," is performed with as much vigor as Pratt's compositions. The leads are solid, and the solos are engaging. In this sense, Toe the Line does conform to one rule: the musicians play from the heart.
Track listing: Houdini; Minor Procedure; Wanderlust; Doppelganger; The Star-Crossed Lovers; Toe the Line; Stoic; Uncle Underpants; After.
Personnel: Dan Pratt: tenor saxophone; Alan Ferber: trombone; Jared Gold: organ; Mark Ferber: drums.