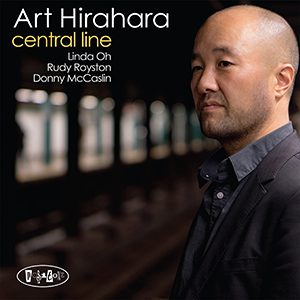 A pithy observation from American naturalist Ralph Waldo Emerson graces the cardboard gatefold of Central Line, pianist Art Hirahara's third project for the Positone label: "The ancestor of every action is a thought." The importance of ancestry in a more historical sense folds indelibly into not only Hirahara's audibly observable actions, but also his carefully considered approach to his instrument whether rooted in his Japanese American heritage or the diaphanous jazz lineage of which he is a modest, but consequential part.
A former student of the Oberlin Conservatory of Music and California Institute of the Arts, Hirahara traded left coast for right and settled into the New York City jazz scene some thirteen years ago. Several of the myriad creative connections made over that time span are evident in his chosen cast of colleagues for the date. Bassist Linda Oh and drummer Rudy Royston complete the vibrant core trio with sought-after saxophonist Donny McCaslin guesting on four tracks. Hirahara handles composerly commitments on a dozen of the fourteen pieces for a set that clocks to just shy of an hour.
A brisk opening title piece for trio contrasts with a lush solo reading of the traditional Japanese folk tune "Kuroda Bushi". Hirahara's touch and placement on the latter is particularly ruminative and insular, making the warm and inviting chords that comprise "Astray" all the moreso by comparison. McCaslin's verdant presence matches the delicately languorous contributions of the rhythm section in terms of palpable allure and once again the leader's unwillingness to rush the proceedings pays off. "Little Giant" reveals another side of the tenor/piano accord with the pair taking the opening minutes to playfully joust before their peers join in the fun.
Measured pacing also flavors the incremental architecture of "Drawing with Light" as Hirahara's gilded progression gains heft from Oh's cloaking bass line and carefully placed accents from Royston's corner. A solo interlude of gently cascading chords resets the compass to a rising ballad tempo tinged with emotional shadow. If there's a single criticism to apportion it's a slight one and apparent in the passages where Hirahara's effusiveness threatens to spill over into sentimental excess as on the concluding interpretation of "Yuyake Koyake". Fortunately, those moments are few and a fine equilibrium between restraint and emotion remains the norm. The ancestors of the innumerable actions ensconced on this disc are honored in full.
Derek Taylor – Dusted Magazine