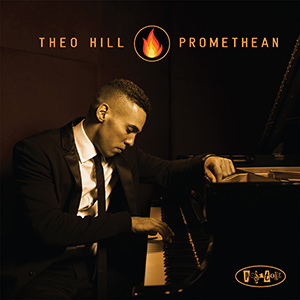 Theo Hill is a young pianist who hails from Albany, NY who now lives and works in New York City.  Over his decade-plus in the city, Hill has worked and recorded with the likes of trumpeter Charles Tolliver, trombonist Frank Lacy, drummer Jeff "Tain" Watts, saxophonist Dave Liebman, trombonist David Gibson (he's on two CDs with his band), the Mingus Big Band, and many others.  Hill's debut CD, "Live at Small's" (Small's LIVE), was a quintet issued in October of 2014.
His new recording, "Promethean", is his first for Posi-Tone Records and is a trio date with bassist Yasushi Nakamura and drummer Mark Whitfield, Jr. One might be tempted to assume as he reads the program that, with the exception of the pianist's composition "The Phoenix", that this CD is an homage to Hill's influences. There are two pieces from Tony Williams ("Pee Wee" and "Citadel") and Kenny Kirkland ("Blasphemy" and "Chance") as well as one each from Bobby Timmons, Herbie Hancock, Victor Lewis, Hale Smith, Chick Corea, and Duke Pearson. The lone original is a tribute to McCoy Tyner; one hears it in the muscular chords and the powerful surges from the rhythm section.
Right from the opening notes of Timmons's "This Here", one can hear that Hill is a masterful pianist and that he can "swing" with force, joy, and purpose,  Messrs. Nakamura and Whitfield, Jr. are equal partners in this adventure, keeping the rhythms percolating and creating foundations that not only support  but also push the pianist and songs forward.  Smith's "I Love Music" (recorded, most notably, by Ahmad Jamal in 1970) is given a funky treatment with the rhythm section locked into the groove. Corea's "Litha" rises on Latin rhythms into a high-energy romp (note that fast-paced "walking" bass and superb cymbal work) – it's on pieces such as those that one hears the real joy Hill and the Trio can create. Yes, the pace may be funky or frantic but the music transcends mere technique. There's such a handsome solo piano reading of "Chance", with its floating chords and articulated single-note lines, illuminating an artist not afraid of making a song his own.
The main definition of promethean is "daringly original and creative."  That may be hyperbolic in some instances and I wish to modify it just a bit in the case of Theo Hill.  He's a daring musician who is continually creative, willing to take chances with the "tradition" without being sacrilegious. No need to shoot the (jazz) messenger but to honor him and her by continuing to move the music forward.  Enjoy "Promethean."