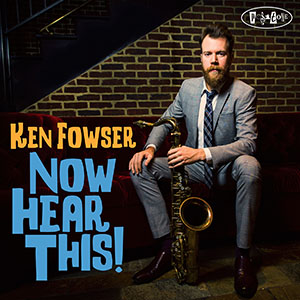 Taking a cue from some of the other smaller jazz-based labels, Posi-Tone has done a remarkable job over the past few years of building a roster of budding talents worthy of wider recognition. Part of the allure of such an endeavor is the ability to see the evolution of an artist's muse unfolding like a rose. Those in the know have heard from tenor saxophonist Ken Fowser through his partnership with vibraphonist Behn Gillece via the four albums the two co-led starting with 2009's Full View. Fowser's own maiden voyage was last year's Standing Tall, which is to be followed up with Now Hear This.
Built on a program of eleven original pieces by Fowser himself, this superb date recalls some of the finest iconic Blue Notes, and that is said with the utmost respect to the saxophonist and his peers. Although it comes about halfway through the program, a blistering "The View from Below" puts the ensemble through their paces. Trumpeter Joshua Bruneau shows us his bristling timbre, making him a perfect foil for Fowser's more burnished sound. Having studied with Ralph Lalama, Grant Stewart, and Eric Alexander you can hear the amalgam that is part of the charm of Fowser's approach.
The range of material here is diverse and disparate, from the boogaloo of "Blues for Mabes" that perfectly recalls its namesake to the muscular bossa of "One and Done," which features one of Fowser's best moments. The waltz tempo of "Still Standing" finds pianist Rick Germanson channeling McCoy Tyner during his time in the spotlight, while Fowser rifles off a few of Eric Alexander's pet phrases, which in turn actually came down via the great George Coleman.
Dropping the tempo, "Fair to Middlin'" sits squarely in the pocket thanks to the drumming of Jason Tiemann. His drums and cymbals are rendered crisply and with just the right amount of ring and reverb. Fowser takes his time while telling his story, playing against the grain of Germanson's thick chords. Bruneau gets to the core of the moment while bassist Paul Gill takes a rare solo that serves as the icing on top of the cake.
The medium to fast-paced tempos on "Ready the Mops," "Blast Off," and "Now Hear This!" really do give Fowser and Bruneau a chance to shine. They have worked out appropriate voicings and routines that provide for interest and variety. While this reviewer has previously stated a caveat in regards to Posi-Tone's penchant for short numbers undeniably aimed for radio airplay, nothing here seems forced or lacking in development. Although the year is still young, this is one of the best sets to come down the pike so far.
C. Andrew Hovan – All About Jazz