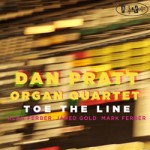 The State of Organ Jazz 2010, Part I: Wayne Escoffery, Dan Pratt and Matthew Kaminski
By C. Michael Bailey
Organ-based jazz inhabits a unique place as a sub-genre. The combination of the sacred churchy organ with the decadence of blues and bebop made for a heady brew after the introduction of the format by Wild Bill Davis and Bill Doggett in the 1950s. Qualitatively, the names that loom largest in organ jazz are Jimmy Smith, who put organ jazz on the map with his 1960s Blue Note and Verve recordings, and Larry Young, who picked up where Smith left off at Blue Note, propelling organ jazz into the fusion realm with drummer Tony Williams.
Besides being a firebrand, the organ rhythm section offers a grand alternative to piano and guitar setups. It provides an earthy sophistication, a hint of "soul jazz" as rich as bacon fat added to greens. In spring 2010, the market allows for several organ jazz releases of note. Here are three of them coming from Wayne Escoffery, Dan Pratt, and Matthew Kaminski.
Wayne Escoffery
Uptown
Posi-Tone Records
2010
Wayne Escoffery's previous recordings, Times Change (Nagel Heyer Records, 2001), Intuition (Nagel Heyer Records, 2004), Veneration: Live at Smoke (Savant Records, 2007), Carolyn Leonhart & Wayne Escoffery—If Dreams Come True (Nagel- Heyer Records, 2007) and Wayne Escoffery & Veneration—Hopes & Dreams (Savant Records, 2008), established the saxophonist as a solid post bop musician with intelligent ideas and fine tonal form. His keen approach is sharpened in the organ trio format, where every edge and corner is visible.
This sharpness and precision in this format is made that much more keen by guitarist Avi Rothbard's composing. "No Desert" and "Cross Bronx" are draftsman-angular pieces with accurate heads and orderly solos, all held together with the glue of Gary Versace's organ. The real treat on the disc is a rollicking version of Duke Ellington's "I Got it Bad," where Escoffery swings so hard he changes the weather. Escoffery's retro blues "Easy Now" is breezy with a gospel feel. "Nu Soul" breaks into adult contemporary terrain with a complex, assertive head. Escoffery is full-throated in his tenor tone and Versace all creamy warmth.
Uptown is an exciting release, a chance taken where the payoff is very finely performed music. Wayne Escoffery should return to this format in future recordings, but should not to over-do it, in case he makes the experience pedestrian.
Visit Wayne Escoffery on the web.
Dan Pratt Organ Quartet
Toe The Line
Posi-Tone Records
2010
Saxophonist Dan Pratt likes to fray those precise edges established by Wayne Escoffery, adding a bit of funky freedom to the mix. He also adds the competing trombone of Alan Ferber, rounding out the horn tone of the combo. Toe The Line is Pratt's second recording, following Spring Loaded (Sunny Sky, 2004). It is a collection of eight Pratt originals and one standard (Ellington's "Star Crossed Lovers").
Pratt's compositional bent tends to smart and wordy post bop. "Houdini" and "Minor Procedure" both are up-tempo burners with winding introductions. "Doppelganger" is an off-time blues that allows Pratt's tenor to have contrapuntal relations with Alan Ferber's trombone. The two unite for some slick and mantra-like ensemble play that oddly recalls saxophonist John Coltrane's spiritual spasms without imitating them.
"Star Crossed Lovers" bisects the recital with a bona fide ballad treatment that recalls baritone saxophonist Gerry Mulligan and valve trombonist Bob Brookmeyer in a very modern way. Jared Gold provides a most modern organ solo that mixes well with Pratt's and Ferber's subsequent soliloquies. The closing piece, "After," opens with a Pentecostal call-and-response that flirts with a ballad before crossing the blues with sanctified gospel, producing 21st century New Orleans R & B. This broadly appealing album has much to offer listeners, its coda being a part of jazz fans' collective DNA.