By J Hunter
Traditional jazz does not have to be boring. It does not have to be staid, or re-fried or adhere to a formula concocted in a New Orleans barroom over nine decades ago. A lot of the large labels don't get that. Fortunately, the creative triumvirate at Posi-Tone Records not only understands this concept, but they practice it in a big way. The label closed out 2009 with solid efforts by saxman Wayne Escoffery with Uptown and drummer David Ashkenazy with Out With It, and they've hit the ground running in 2010 with three more great releases.

Ralph Bowen
Due Reverence
Posi-Tone Records
2010
Tribute discs have long been thick on the ground in jazz. Compatriots remember a colleague who has gone, and new generations give respect to the legends that showed them the way. But not all inspiration comes from giants; sometimes it's a teacher, or even a fellow countryman who plays the same instrument but hasn't got a wing in the hall of fame. The latter categories are the building blocks tenor man Ralph Bowen uses to construct Due Reverence.
The opener, "Less Is More," begins with guitarist Adam Rogers in the clear, playing beautifully meditative lines that reflect the disc's title. Bowen and bassist John Patitucci ease themselves into the picture, with Patitucci bowing underneath Bowen's rich melody line. "Less" crystallizes into a bossa when drummer Antonio Sanchez completes the scene, but the bossa goes modern as Bowen slowly turns up the temperature. He doesn't blow wild, but his passion for his subject is undeniable, as is the intention in his tenor. Rogers and the rhythm section inject some late-night groove into the final section, proving once again that Rogers can do a lot more than just blow people's eardrums out with his electric wizardry.
There are only five tracks on Reverence, but when the subject is the people who helped form a career, five can be all that's needed. Bowen's finger-snapping blues, "Phil-Osophy," is named for clarinetist Phil Nimmons, a 1930s bandleader and fellow Canadian, while the tasty "Mr. Scott" and the coda, "Points Encountered," are respectively dedicated to two of Bowen's instructors at Rutgers. "Less" was written for guitarist Ted Dunbar, one of the first jazz professors at that institution, and the high-flying "This One's For Bob" goes out to one of Bowen's many employers, tenor wizard Bob Mintzer. But once again, the fame of a subject is not what matters here.
What does matter (and what most definitely impresses) is Bowen's love for each of his subjects. All five tracks are long-form pieces that exude purpose and commitment as each character is "fleshed out" by Bowen and his partners. Trumpeter Sean Jones joins the front line on "Scott," goosing up the energy with his pure, clean tone as he offers Bowen a shining harmonic foil. The track shows the album might have been even livelier as a quintet date. But then, Due Reverence might not have been as personal—or as eloquent—as it is.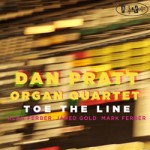 Dan Pratt Organ Quartet
Toe The Line
Posi-Tone Records
2010
Reedman Dan Pratt may be a product of northern California's wine country, but there's nothing mellow about the music he's making. Along with membership in about five New York City big bands, this alumnus of the Monterey Jazz Festival's High School All-Star Band is also part of the mushrooming music scene on the Brooklyn side of the East River. There's a real swagger to the jazz coming out of Brooklyn nowadays, and that swagger is one of the reasons why Toe The Line works like a charm.
The off-time boogie, "Houdini," gives this album a beginning as unique as Pratt's front-line sound. Trombonist Alan Ferber counters Pratt's opening melody while Jared Gold's organ lays the foundation even as it helps lift Pratt's first solo to the next level. Gold's fills are as solid as his last name, and Pratt's lines are juicy, unvarnished and laced with a smoky R&B flavor that's nothing but fun. Ferber's following solo keeps the direction but changes the harmonic, making it deeper and rounder. When he and Pratt join up on the head, they launch dueling musical monologues that infuse the closing with a wonderful complexity.
Gold's own Supersonic (Posi-Tone, 2009) showed potential, but suffered from a shortage of engaging material. Without the burden of leadership, Gold gets down and plays his tail off on Toe The Line. He slashes as he runs on the breakneck "Minor Procedure," throws John Medeski-like color splashes onto "Wanderlust," and changes the direction of Pratt's take on Duke Ellington's "Star-Crossed Lovers" by supplanting the initial romantic mood with a hopping urban vibe. Ferber's exploration on "Doppelgänger" is both aggressive and off-kilter, adding to the skewed atmosphere of Pratt's composition. Conversely, Ferber's solo on the funked-out "Uncle Underpants" eschews introspection in favor of putting the pedal to the metal.
Put simply, Pratt and Ferber love to "fight," and take multiple opportunities to throw musical punches at each other in a riveting variation of the Afro-Brazilian dance discipline capoeira. After all the battles and the boogie, the whole quartet comes together for the gospel-flavored blues coda, "After." It's a warm tribute to the late Bob Pratt, but while the music is certainly reverent, the passion that fuels the piece (and Pratt's solo in particular) still shows the swagger that makes Toe The Line great on so many levels.

Brandon Wright
Boiling Point
Posi-Tone Records
2010
Putting veteran musicians behind the subject of a maiden recording can actually attract negative questions. Can the rookie match the quality these heavy players are known for producing? More importantly, were the heavies brought in to mask the rookie's deficiencies? Fortunately the answers are "Yes" and "No"—in that order—when it comes to Boiling Point, tenor man Brandon Wright's recording debut.
The collective résumé of Wright's backup band—(pianist David Kikoski, drummer Matt Wilson, bassist Hans Glawischnig and trumpeter Alex Sipiagin)—would fill several pages, but if Wright was intimidated, there's no sign of it on the scorching opener, "Free Man." After a quick call-and-answer with Sipiagin, Wright takes off like a bird for the high end of the tenor's register. His lines are hot even as they maintain a linear direction, and his lyrical sense is spot-on as Kikoski's comps and fills offer fine counterpoint. When it's the pianist's turn, there's no transition point from support to soloist—Kikoski simply kicks the comp into a completely different gear and steps to the front like he owns it…which he does for the balance of his solo.
Wright's chemistry with Kikoski is explosive, with a vibe that's more colleague-to-colleague than teacher-to-student. Their duet on the first section of Jimmy van Heusen's "Here's That Rainy Day" is sensational, and is a logical extension of Kikoski's pensive in-the-clear opening. Kikoski's solos on the bossa-bopper, "Castaway," and "Odd Man Out," a track reminiscent of trumpeter Miles Davis, are both inspired and inspiring, and Kikoski lays the groundwork for almost every tune on Boiling Point, setting up vamps and foundation figures that are perfect outlet passes for Wright's melodies. He even helps Wright morph Stone Temple Pilots' "Interstate Love Song" into a waltz evoking pianist Bill Evans, and that's a tall, tall order.
Wilson and Glawischnig stay primarily in the background, but that doesn't mean they're wallflowers. Wilson is one of the most mesmerizing drummers in jazz, and it's worth wearing headphones to fully experience his dynamic fills. Glawischnig's resonant lines snake around Wright on the forlorn "Drift," and Glawischnig and Kikoski play dueling counters on "Rainy Day." While Sipiagin provides a pure, bright tone and solid harmony on the melodies, his solos frequently fall short next to Kikoski's bursting fills. On the other hand, Wright more than holds his own with the veterans, making Boiling Point a satisfying debut and setting a fine baseline for all of Wright's future recordings.
Tracks and Personnel
Due Reverence
Tracks: Less Is More; This One's For Bob; Phil-Osophy; Mr. Scott; Points Encountered.
Personnel: Ralph Bowen: tenor sax; Adam Rogers: guitar; John Patitucci: bass; Antonio Sanchez: drums; Sean Jones: trumpet (4).
Toe The Line
Tracks: Houdini; Minor Procedure; Wanderlust; Doppelgänger; Star-Crossed Lovers; Toe The Line; Stoic; Uncle Underpants; After.
Personnel: Dan Pratt: tenor sax; Alan Ferber; trombone; Jared Gold: organ; Mark Ferber: drums.
Boiling Point
Tracks: Free Man; Drift; Odd Man out; Boiling Point; Here's That Rainy Day; Castaway; Interstate Love Song; You're My Everything.
Personnel: Brandon Wright: tenor sax; Alex Sipiagin: trumpet; David Kikoski: piano; Hans Glawischnig: bass; Matt Wilson: drums.