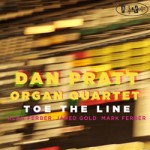 by Derek Taylor
masterofasmallhouse.blogspot.com
The Hammond organ is a hardy instrument, having weathered waxing and waning popularity since pioneers like Fats Waller and Bill Doggett brought it prominence as a viable jazz voice. Still, the number of players who opt to apply it to adventurous settings remains relatively few compared to the legion content to toe the line of convention. Saxophonist Dan Pratt and organist Jared Gold choose the less traveled path on this second disc by Pratt's working quartet. Gold is an important part of a recent release by guitarist Jeff Stryker also reviewed in these virtual pages. The difference in his playing in that context compared to here is instructive as to just how well Pratt is able to press the best from his partners by giving them plenty to work with.
Pratt's writing for the band is its principal asset. Each of the nine originals brims with ideas and novel avenues for execution. "Houdini" and "Minor Procedure" work of tightly wound heads and bright, bustling rhythmic structures. Gold builds throbbing bass lines and whirring fills that make the most of his instrument's variable tone settings. "Wanderlust" opens with syrup-thick sustain and weirdly warbling effects that instantly place the tune apart. On "Star Crossed Lovers" and the closing "After" Gold traffics in luminous, church-appropriate swells that resist tipping over into treacle. The Brothers Ferber, Alan on trombone and Mark on drums, complete the band and are equally essential to the constantly shifting sound that reflects the players in nearly all manner of component groupings. Alan works like the cooling balm preceding the burning heat of Pratt's improvisation on "Dopplegänger", his rounded lines transmitting with an almost tactile smoothness.
Other pieces in the program cover different bases from the rock-inflected patterns of the title piece that works off another monster snaking bass line from Gold and a string of dynamic drum breaks to the vaguely Latin groove of "Stoic", which again features the unflappable ingenuity of the drummer's textured stick play. Trading in humor and tradition, "Uncle Underpants" gains momentum as a spiraling Pratt-penned head irons out into a stomping funk vamp. Ferber's malleable backbeats soon reach street band fervency and he virtually steals the track with a galloping extended break. Pratt and his colleagues have been gigging quite regularly and the multiple merits of this release are certain to extend that employment streak. It's a set custom-designed for skeptics who consider organ dates strictly old hat.