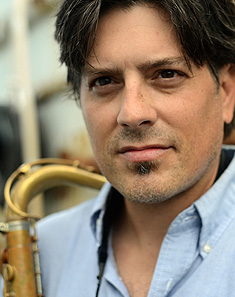 Tenor sax player Tom Tallitsch is a modern-day jazzman. When he's not busy leading his own band, he can be found composing, and teaching. This diversity exudes in many different ways through his compositions and is most recently manifested on his eighth and latest record, titled Wheelhouse (Posi-Tone, 2018). Wheelhouse is a quintet date featuring a wonderful lineup of jazz musicians that are all featured on multiple Posi-Tone records, including Josh Lawrence on trumpet, Jon Davis on piano, Peter Brendler on bass, and Vinnie Sperrazza on drums. Wheelhouse features an exciting program of all original compositions, and Tallitsch's first recording with a trumpet player.
Gratitude (Posi-Tone, 2016) is a quartet date featuring a wonderful lineup of jazz musicians all featured on multiple Posi-Tone records, including Jon Davis on piano, Peter Brendler on bass, and Rudy Royston on drums. Brian Charette also adds his organ expertise to two tracks. Gratitude features an exciting program of original compositions, along with Tom's new arrangements of a few classics.
The Cleveland, Ohio native Tallitsch began his musical training on the piano, clarinet and saxophone. Here he began his journey into the life of a diverse jazz artist. Since graduating with a Bachelors of Music in Jazz Studies from the University of Cincinnati College Conservatory of Music, Tallitsch has gone onto record six other records as a leader including All Together Now (posi-Tone 2015), Ride (Posi-Tone, 2014), Heads Or Tales (Posi-Tone, 2012), Perspective (Origin, 2009), Medicine Man (Origin, 2008), and Duality (self released 2005).
In addition to having many of his compositions and arrangements played by vocalists and musicians throughout the United States, Tallitsch has had his works performed by individual dancers from the Martha Graham Dance Company at various choreographer showcase venues. Tallitsch is musical director, and composer for the multi-media dance company Big Sky Project, founded by his wife Carrie Ellmore-Tallitsch.
Tallitsch is a popular jazz educator and clinician, and owns a popular music tutoring business in Princeton, NJ. He is the founding director of the Central NJ Homeschool Bands, works as a piano tutor to students with autism at The Princeton Child Development Institute, and was a member of the artist faculty at Mercer County Community College from 1999-2006. He has taught at The Westminster Conservatory, Philadelphia Clef Club, Creative Music Studios, The Groove Academy, and many more. He is a gifted music educator who has given lectures and clinics at many top high schools including The Lawrenceville School and The Pennington School. He has had students continue on to pursue professional careers at conservatories throughout the country.