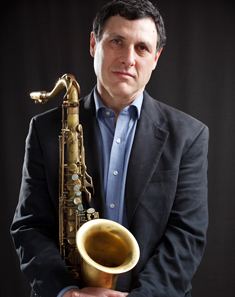 Often described with phrases such as "a consummate technician who obviously values melody" and "a bold and creative player with monster chops," saxophonist Ralph Bowen is clearly recognized as a master of his instrument by his fellow musicians, the jazz writers, and music fans worldwide.
Bowen's latest project, the self-titled Ralph Bowen, is his sixth album for Posi-Tone. What the record lacks in title, it makes up for in musical quality and skillful composition. One of the highlight is Bowen's six part suite titled The Phylogeny Suite. There are also a couple choice covers and a beautifully composed tune by band member bassist Kenny Davis. Also joining Bowen on the date are pianist Jim Ridl and drummer Cliff Almond.
This record follows up Bowen's previous work for Posi-Tone: Standard Deviation (2014), Total Eclipse (2012), Power Play (2011), Due Reverence (2010), and Dedicated (2009).
Originally recognized for his work on the New York jazz scene as co-leader of the group Out Of The Blue, Bowen has performed and recorded over the last two decades with a veritable who's who of the biggest names in Jazz including among others: Horace Silver, Freddie Hubbard, Kenny Barron, Ron Carter, Hank Jones, Stanley Turrentine, Tony Williams, Gary Bartz, James Spaulding, Lenny White, Branford Marsalis, Lewis Nash, Stanley Jordan, Kenny Garrett, Brian Blade, Maria Schneider, and Jeff Watts.
With an extensive discography of over 70 titles and countless performances at club dates, concert halls and festivals, as well as his work as an Associate Professor of Jazz Studies at Rutgers University, saxophonist Ralph Bowen's aesthetic of "casual perfectionism" continues to impact and influence his fellow musicians, and expand his audience of critics and jazz fans worldwide.