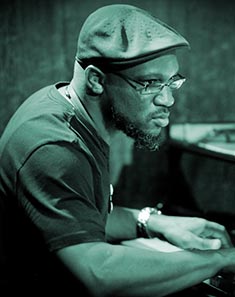 Orrin Evans has been recognized as one of the most distinctive and inventive pianist of his generation. In a short span of time Evans has earned the titles of pianist, composer, bandleader, teacher, producer and ar- ranger. The New York Times described the pianist as "...a poised artist with an impressive template of ideas at his command," a quality that has undoubtedly assisted in keeping Evans at the forefront of the music scene.
With a string of critically acclaimed releases for the Posi-Tone label, Evans continues with his latest work, Mother's Touch (2014). This record is the second release by the Evans led Captain Black Big Band and fea- tures studio tracks composed by Evans, Donald Edwards, Eric Revis, and Wayne Shorter. This powerful and bombastic musical adventure continues the big band tradition and shows where it is headed in the future.
Evans's recording career started in 1994 with a self-produced trio release on his own Imani Records label. His output continued with several releases on Imani and for Criss Cross and Palmetto Records before his re- cent run with Posi-Tone, where he released the critically acclaimed Faith In Action (2010), Tarbaby - The End Of Fear (Posi-Tone, 2010), Freedom (2011), Captain Black Big Band (2011), and Flip The Script (2012).
Growing up in a musical city like Philadelphia was extremely important to early development of Evans' ca- reer. Philadelphia afforded Evans the opportunity to study informally with the likes of Trudy Pitts, Shirley Scott, Mickey Roker, Bobby Durham, Edgar Bateman, Sid Simmons, and formally with William Whitaker, Jack Carr, and Charles Pettaway. In 1993, after attending Girard Academic Music Program, Evans was ac- cepted into the Mason Gross School of The Arts at Rutgers University. While attending Mason Gross some of his teachers included Kenny Barron, Joanne Brackeen, Ralph Bowen, & Ted Dunbar. They instilled in him the importance of the fundamentals of jazz as well as the necessity of listening to and living the music.
After moving to New York in 1996, Evans was invited to join Bobby Watson's band "Horizon" on their Euro- pean tour. This opportunity introduced Evans to the New York jazz scene. His recording and performing resume includes Wallace Roney, Mos Def, Common, Pharoah Sanders, Antonio Hart, Carmen Lundy, Ralph Peterson, Ralph Bowen, The Mingus Big Band, Roy Hargrove, Nicolas Payton, Brandford Marsalis, Gary Bartz, Eddie Henderson, Sean Jones, Tim Warfield, Ravi Coltrane, Robin Eubanks, Duane Eubanks, and Dave Douglas.
Evans' greatest joy, besides spending time with his family, is producing projects for other artists like Sean Jones and JD Walter, and playing and touring the world with his own band, which at different times features such notables as Ben Wolfe, Donald Edwards, Obed Calvaire, Ralph Peterson, Jr., Sam Newsome, Ralph Bowen, Nasheet Waits, Reid Anderson, Eric Revis, J.D. Allen, Stacy Dillard and Duane Eubanks.