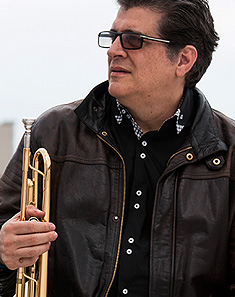 Trumpeter Joe Magnarelli has been a fixture in the New York and international jazz scene for almost 30 years.
Magnarelli's latest record, titled Three On Two (Posi-Tone 2015) is his second for Posi-Tone and is another quintet date featuring his brilliant composing and a wonderful cast of musicians. Steve Davis is back on the trombone with Mike DiRubbo on the alto rounding out the frontline. The rhythm section is the team of up-andcomers organist Brian Charette and drummer Rudy Royston. Three On Two is Magnarelli's eleventh title as a frontman and finds him continuing his ascension in the world of legendary jazz trumpet players.
Magnarelli began his career in the late 1980s with stellar gigs touring and recording with Lionel Hampton, Jack McDuff, Toshiko Akiyoshi, Glenn Miller Orchestra, and Harry Connick Jr. Since then, Magnarelli has continued working and touring with a long list of top artists including Jane Monheit, The Village Vanguard Orchestra, Jon Hendricks, Jimmy Cobb, Louis Hayes, Alvin Queen, Dado Maroni, Marty Sheller, The Tom Harrell Big Band, George Gruntz, Harry Whitaker, Walt Weiskopf, Grant Stewart, Spike Wilner, Charles Davis, Nick Brignola, JR Monterose, Gary Smulyan, The Carnegie Hall Orchestra, Don Sebesky, John Pizzarelli, Aretha Franklin, Rosemary Clooney, Joe Williams, Michael Feinstein, and The Lincoln Center Orchestra.
When Magnarelli is not touring the world playing trumpet, he is an adjunct professor of music at the Juilliard School of Music and Rutgers University. He also conducts clinics and master classes around the world, sharing his musical experience and his knowledge from his past teachers. These teachers have included Jack Palmer, Sal Amico, Tommy Turrentine, James Moody, Garry Dial, Arnold Jacobs, and William Vachianno.