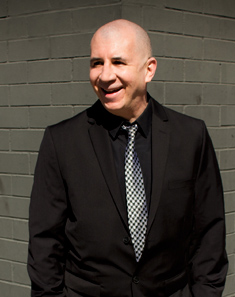 Pianist and composer Jon Davis has been performing and touring with many of the finest jazz musicians around the world for over 30 years. He has appeared on over 50 recordings, and has written hundreds of compositions. Although perhaps still most widely known for his association with the legendary bassist, Jaco Pastorius, Davis has shown a rare versatility ranging from solo, to big band, and everything in between.
Davis' latest work, a piano trio album titled Happy Juice (2017 Posi-Tone), expresses his admiration for five influential pianists; Herbie Hancock, Chick Corea, McCoy Tyner, Keith Jarrett, and Bill Evans. Davis creates interpretive performances of their classic compositions and sets them alongside five of his own compositions that were each directly inspired by these jazz piano masters. The accompanying musicians are veterans Boris Kozlov on bass and Mark Ferber on drums. Happy Juice is the fourth record for Posi-Tone and continues on the success of One Up Front, 2013, Moving Right Along, 2015 and Changes Over Time, 2016.
Davis was born in New York City, and started playing piano and guitar in his early teens. After a very brief stint with pianist Lennie Tristano, Davis went to the New England Conservatory in Boston. Studies with Jaki Byard, Madam Chaloff and Ran Blake would help get him started, but he felt "on the job training" was more his calling, so he soon left NYC, and started gigging steadily around Boston.
In the early 80's, Davis relocated to San Francisco, and really began coming into his own, working regularly with the John Handy Quartet, Eddie Henderson, Johnny Coles, Buddy Montgomery, as well as jazz legends such as Joe Henderson, Milt Jackson, and Stan Getz. He was also playing in bands with future jazz greats Larry Grenadier, and Jeff Ballard, and had become a major force on the freelance scene of the Bay Area. It is in the Bay Area where the he would team up with drummer Brian Melvin and form an association with Pastorius that would last several years, touring Europe in the mid 80's, and producing five records.
The more "fusion" side of the music was released in 1988 as "Brian Melvin's Night Food", featuring Davis' composition "Did You Hear That Monie (Grandpa Monroe)." The acoustic "trio date" also released under Melvin's name, titled "Standards Zone" (1986) has earned Davis some of his most international recognition and critical acclaim, both as a player and as composer of the tune "Wedding Waltz." It is the only piano trio record released with Pastorius, and has truly become a classic jazz recording.
After working with many of San Francisco's best musicians, Davis felt it was time to move back to New York. Since returning in the early 90's, Davis has worked constantly in every imaginable setting. He was house pianist for the jam sessions at The Blue Note, lead a session in the early days of Smalls, as well as a five year steady engagement at Sweet Basil with tenor saxist Ilhan Ersahin (NuBlu club founder). At this time, Davis was touring Turkey frequently as part of Ersahin's quartet, which led to a couple of recordings featuring Eddie Henderson, Larry Grenadier, and Brian Blade, among others. Davis then changed settings and became the house pianist at the Four Seasons Hotel in New York City, while maintaining a busy teaching schedule at The New School.
Recent projects have continued to be exciting, and varied. Currently, Davis is leading gigs at many of New York's finest jazz venues, touring the world as a leader, and is an in-demand studio sideman.