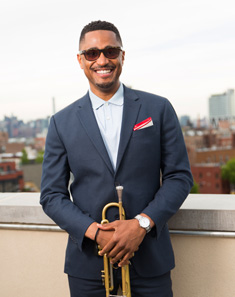 Bruce Harris is a New York born and raised trumpet player, who's debut album as a bandleader is aptly titled Beginnings (Posi-Tone, 2017). The album features Harris in the frontline with a rotating cast of top-notch saxophonist, including Jerry Weldon, Andy Farber, Grant Stewart, Frank Basile, and Dmitry Baevsky. The steady rhythm section throughout the album consists of his working band — pianist Michael Weiss, bassist Clovis Nicolas, and drummer Pete Van Nostrand. With an amazing combination of talents, some brilliant performances, and an evocative program of music, Beginnings successfully proclaims Harris as an important and emerging voice in jazz.
Harris' affinity with music began as a child listening to his grandfather play the alto sax in his family's Bronx apartment. Mentored at the Conservatory of Music at Purchase College by Jon Faddis, Harris received his Master's degree in Jazz Performance in 2009 and went immediately on to perform with jazz luminaries Barry Harris, Frank Wess, The Dizzy Gillespie Alumni All-Stars, Winard Harper, T.S. Monk, Myron Walden, Kendrick Oliver's New Life Jazz Orchestra, Jimmy Cobb, the Artie Shaw Orchestra and the Glenn Miller Orchestra.
In 2013, Wynton Marsalis selected Harris for the Tony Award-winning Broadway musical "After Midnight," and Harris has since been one of the young cornerstones at Jazz at Lincoln Center in New York, Doha, Qatar and Shanghai. He has toured with countless major acts, and has been a long time fixture in The Count Basie Orchestra, one of the most classic and important jazz big bands today. He can be seen regularly performing with his quintet, and big band in the hottest clubs all over the world.