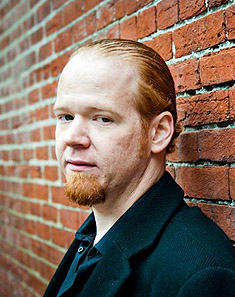 Vibraphonist Behn Gillece has built a reputation on the New York jazz scene as a virtuosic instrumentalist and prolific composer. Walk Of Fire (2017 Posi-Tone), his third album as leader, features a stellar group with a frontline of Walt Weiskopf on tenor, Michael Dease on trombone and Bruce Harris on trumpet. This powerful frontline is accompanied by pianist Adam Birnbaum, bassist Clovis Nicolas, and drummer Jason Tiemann who make Gilleceís ten original compositions groove and swing.
With inspiration from such legends as Milt Jackson and Bobby Hutcherson, Gillece has committed himself to the beautiful sounding vibraphone and has shined as a composer. A New Jersey native, Gillece had many early performance opportunities in his home state, as well as Philadelphia, before moving to New York City in 2006, where he has made quite a name for himself as a sought after sideman, as well as bandleader. Gilleceís first two debut albums as a leader, Mindset (2015 Posi-Tone) and Dare To Be (2016 Posi-Tone) made immediate splashes in the press and radio. As a co-leader with tenor saxophonist and label mate Ken Fowser, the duo have four critically acclaimed recordings on Posi-Tone which received international acclaim and extensive radio play. The vibraphonist has also appeared as a sideman on many recordings, most recently contributing his playing to albums by Walt Weiskopf, Melody Gardot, and Ensemble Novo (a Philadelphia-based group dedicated to Brazilian repertoire).
Gillece has performed his music throughout the world at venues which include the Lincoln Center, Kennedy Center, Kimmel Center, Smalls Jazz Club, Smoke Jazz Club, Fat Cat, Yoshi's, Chrisí Jazz Cafe, and many others. Gillece has also appeared at music festivals worldwide, including the North Sea, Montreux, Nice, Ghent, Montreal, and Toronto festivals.
In addition to his robust performance life, Gillece also has a burgeoning career as a music educator. In addition to the various workshops he has given at colleges and universities across the world, he has prepared over 200 lessons for online instruction at vibesworkshop. com, which benefits percussion students internationally.
Gillece has a masterís degree from SUNY Purchase College, and has won many awards and honors including winning the 2008 Jazz Improvisation competition at the Percussive Arts Society International Convention, participating in the 2009 Betty Carter Jazz Ahead residency, and winning the Generations competition in 2009. Gillece is an endorsing artist for Malletech.