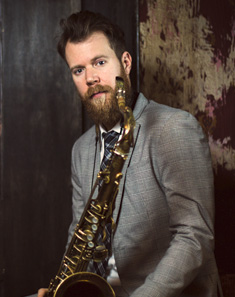 Ken Fowser has quickly developed a reputation as one of the finest tenor saxophonist of his generation. While building upon a strong foundation steeped in the jazz tradition, Fowser continues to develop his own unique voice and style as a saxophonist and composer. Fowser is mostly noted for his full bodied tone, linear approach to jazz harmony, and commitment to swing. He's been turning heads on the New York City jazz scene, from the uptown club Smoke, to the world famous club in the Village, Smalls, and lately The Django at The Roxy Hotel in Tribeca. Fowser is a young generation tenorman that has fans attention.
Don't Look Down (Posi-Tone, 2018) is Fowser's third album as a leader and features eleven original compositions penned by Fowser and performed by his world-class band of jazz musicians, including Josh Bruneau on trumpet, Rick Germanson on piano, Paul Gill on bass, and Joe Strasser on drums. From every angle, Fowser continues to develop and refine his strong artistic vision as a leader who is both emotionally engaging, uplifting, and charismatically entertaining. With a delicate balance of modernity and classic aesthetics, his new album is an insightfully straight forward, steadily swinging, and refreshingly melodic record. Don't Look Down builds on the excitement of Fowser's first two albums, Standing Tall (Posi-Tone, 2016), and Now Hear This! (Posi-Tone, 2017), which were both received exceptionally on radio and in the press.
Fowser's recording career began in 2009, and continued with four albums as co-leader with the acclaimed vibraphonist Behn Gillece. The four co-led albums, all for the Posi-Tone record label, were met with critical acclaim and high radio chart positions Full View (2009), Little Echo (2010), DuoTone (2011), and Top Shelf (2013). In addition to making four records, the Ken Fowser/Behn Gillece Quintet won the prestigious Generations International Jazz Competition in 2010 in San Francisco.
Fowser's education formally began at The University of the Arts in Philadelphia in the early 2000s, where he studied with Tony Salicandro and Chris Farr, and the influence of the "Philly Sound" continues to be heard in his playing. He then completed his undergraduate studies at William Paterson University in New Jersey, where he studied with NEA Jazz Master, Harold Mabern, an artistic force who remains one of Fowser's biggest influences, today. As a grad student at SUNY Purchase, Fowser studied with contemporary legends of the tenor saxophone Ralph Lalama, Grant Stewart and Eric Alexander, with whom he forged a professional relationship, subbing on many of his gigs.
For a player his age, the list of influential musicians that Fowser has worked or recorded with is long and impressive. It includes many of today's most respected jazz musicians, including Jimmy Cobb, David Hazeltine, Ray Drummond, Mickey Roker, Billy James, Tony Monaco, Pat Bianchi, Quincy Davis, Willie Jones III, Donald Vega, Joe Magnarelli, John Swana, Byron Landham, and more. Fowser lives in New York City and continues to play all the top venues in the area.