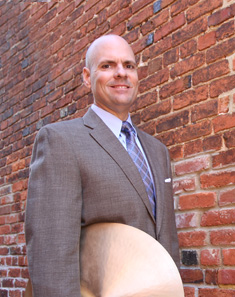 Known for his touch, versatility and musical approach, jazz drummer Steve Fidyk has earned national and international acclaim as an artist, author and columnist. With his second album as a bandleader, aptly titled Allied Forces (2016), Fidyk has gathered together a powerful lineup and has succeeded in pushing his hard hitting melodic message to the front lines. The musicians on the date include the amazing frontline contributions of tenor saxophonist Doug Webb and alto saxophonist Joseph Henson, alongside the crack rhythm section of guitarist Shawn Purcell, and organist extraordinaire Brian Charette.
Fidykís father John Fidyk, who played tenor saxophone with groups throughout North Eastern Pennsylvania, began taking him on gigs as a substitute drummer at the age of eight. Encouraged by his parents, Fidyk pursued music throughout high school, and majored in music education at Wilkes University. He played drums in the big band under the direction of Bob Wilbur and eventually Tom Heinze. It was at this time that he began to immerse himself in jazz, listening to the great big bands of Count Basie, Duke Ellington, Woody Herman, Stan Kenton, and Buddy Rich. Rich was the first jazz drummer Fidyk saw perform live when he was eight years old, and that experience left a lasting impression.
In 1987, after hearing Fidyk play with the Mansfield State College big band, legendary jazz drummer Joe Morello accepted him as a student. Morello was instrumental in helping Steve with his technique, sound production, coordination, and overall approach to playing the instrument. Morello was also very influential in helping Fidyk develop his articulate teaching skills, and he has been dedicated and committed to education ever since. Fidyk currently serves on the jazz studies faculty at Temple University in Philadelphia, Pennsylvania and as a consultant for Jazz at Lincoln Center's Essentially Ellington Program. He has also authored several drum method books and DVDís for Mel Bay and Alfred Publications. As a columnist, Fidyk contributes regularly to Modern Drummer Magazine, and Teaching Music Magazine.
Fidyk has appeared on over 100 recordings and his discography as a co-leader includes Big Kids with John DeSalme (U.S. Roots), and two records with The Taylor/Fidyk Big Band: A Perfect Match (Write Groove, 2003) and Live at Blues Alley (OA2, 2006). His debut as a bandleader was Heads Up! (Posi-Tone, 2014) which featured Terell Stafford and Tim Warfield.
Fidyk has performed with Wayne Bergeron, John Clayton, Mark Taylor, Wycliffe Gordon, Tim Hagans, Slide Hampton, Maureen McGovern, New York Voices, Dick Oates, Arturo Sandoval, and Doc Severinsen. With Maureen McGovern, he has accompanied orchestras throughout the country including The Cincinnati Pops, Spokane Symphony, Nashville Symphony, Plano Symphony, The Baltimore Symphony, The Buffalo Philharmonic, The Richmond Symphony, and the Jerry Lewis MDA Telethon Big Band.