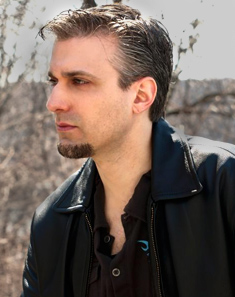 Ever since he arrived in New York two decades ago, DiRubbo has reigned supreme as one of the most durable and dynamic musicians of his generation. But what truly sets DiRubbo apart from the rest was his apprenticeship under the legendary alto saxophonist/educator Jackie McLean: the Harlem bebop whiz kid who literally grew up on Miles Davis and Charlie Parker and surged the alto saxophone toward the change of the century with his alto-centric embrace of hard and post-bop, soul jazz and the avant-garde.
DiRubbo fell under Jackie McLean's soulful, swinging spell in his home state of Connecticut, where he was born on July 25, 1970. He first heard the music of the spheres in the fourth grade as a clarinetist, before switching to the alto at the age of twelve. In high school, he performed a life-changing concert with the dynamic Dwike Mitchell/Willie Ruff duo. Buoyed by his performance with the pianist and bassist/French horn virtuoso, the largely self-taught, DiRubbo decided to dedicate himself to playing jazz professionally.
DiRubbo took a giant step toward his goal of becoming a jazz man, taking that fateful one step beyond from his high school to the Jackie McLean Institute of Jazz of the Hartt School, University of Hartford, one of the nation's finest music schools whose distinguished alumni included saxophonists Antoine Roney, Abraham Burton, and drummer and trumpeter Winard and Philip Harper. DiRubbo came under the direct tutelage of McLean – who moved to Connecticut from New York in 1968. Under McLean's study, DiRubbo learned the music from a true master of the craft: a syncopated soul survivor who performed and recorded with Miles Davis, Charles Mingus, and with Art Blakey's Jazz Messengers, and recorded a number of memorable albums including, Let Freedom Ring, Jackie's Bag and New Wine In Old Bottles.
McLean formed and finessed DiRubbo's raw-boned ability into the precision-pulsed, laser-like alto sound that swings the hardest 4/4 number and sings the most poignant ballad. DiRubbo also took instruction with the school's other esteemed professionals, most notably, pianist Hotep Galeta, bassists Nat Reeves and Rick Rozie and classical saxophonist Ken Radnofsky.
Armed with the Bachelor of Music degree he earned in 1992 – which included studies in the history and tradition of African-American music – DiRubbo emerged from the matrix of academia into the real world: After spending a few years in Connecticut working with fellow Hartt alumnus, trombonist Steve Davis, DiRubbo moved to New York City in 1997; where his musical sword would be forged in the heat emanating from the center of the jazz world. Because of his no-nonsense knowledge of the tradition and his impervious will to swing, DiRubbo quickly made a name for himself as a first call musician of the highest order in the city with Jim Rotondi, Tony Reedus, Joe Farnsworth, David Hazeltine, Brian Lynch, Michael Weiss, Carl Allen, Ronnie Matthews, Essiet Essiet and Harold Mabern.
In addition to being an improviser of the first order, DiRubbo is an active and engaged educator and teaches at several institutions including the Litchfield Jazz Camp, William Paterson University, New York University, Baldwin Wallace University, The New School, Loyola University (New Orleans) and the Jackie McLean Institute. "I think the fundamentals are very important," he told Allaboutjazz.com. "Sound and time concepts are things that are hard to reverse if not learned properly from the beginning. I try to get the student to use their ear more if they come from a reading or theoretical background or the reverse if they only use their ear."