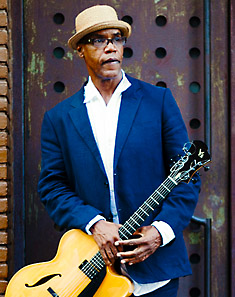 Guitarist Ed Cherry's latest release, titled Soul Tree (Posi-Tone, 2016), marks his return to the studio as a leader and demonstrates the soul and wisdom that has earned him a place on the list of great jazz guitarist. Joining him on this trio date are Kyle Koehler on organ and Anwar Marshall on drums. Cherry brings a couple outstanding compositions and some tunes that have influenced him during his strong career.
Ed Cherry was born in New Haven, Connecticut. His formal education began in 1972 at Berklee College Of Music, but lasted only a brief four months, when he left to go on tour with the American doo-wop group The Five Satins. He continued touring the world with Tim Hardin, Jimmy McGriff, Bobby and Eddie Buster, Ted Daniel, and many others. After commuting from New Haven to New York City to study with Ted Dunbar, Cherry decided in 1978 it was time to move to New York City.
Soon after arrival in New York City, Cherry began playing in Dizzy Gillespie's band, a chair he held until Dizzy's death in 1993. Also in 1993, Cherry released his first record as a leader, titled First Take (Groovin' High), and two years later, another record followed, titled A Second Look (Groovin' High).
Cherry has continued to work with some of the great jazz performers, including Roy Hargrove, Hamiett Bluiett, Henry Threadgill, Kenny Burrell, Dakota Stanton, Oliver Lake, Hilton Ruiz, Andy McKee, Ruth Brown, Steve Coleman, Jared Gold, and John Patton (he's on three of Patton's records: "Blue Planet Man," "Minor Swing," and "This One's For Ja")
2001 marked the release of Cherry's third record, The Spirit Speaks (Justin Time), which was inspired by another employer, Jimmy Smith.
Throughout the decade, Cherry has toured the world as a leader and sideman, and has also worked as a music educator at many fine institutions in the New York area.