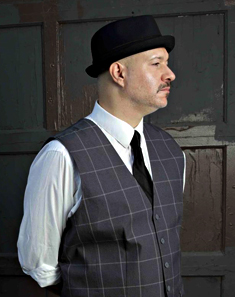 Brian Charette has established himself as a leading voice in modern jazz. The winner of the 2014 critics poll for Rising Star on organ, Charette continues his entertaining and thoughtful recording output with Once & Future. Charette is focused for his tenth release, playing with his trio of Will Bernard on guitar and Steve Fidyk on drums. The record features an exciting program of musical selections from a wide range of styles from B3 masters, from the funky and familiar to the soulful and original.
Charette was born in Meriden, Connecticut in 1972, and was introduced at an early age to music by his mother, an excellent pianist, and studied classical piano and bass. By the age of seventeen, he was working sideman gigs with jazz luminaries such as Lou Donaldson and Houston Person. After high school, Charette began touring Europe and was gravitated to the culture and scene of Prague and the Czech Republic, introduced by Czech trumpeter Laco Deczi.
Charette's organ career took off in the 1990s, after moving to New York City. Charette's recorded career as a leader began with his 2002 self-titled release and has continued with eight more records, with the three latest on Posi-Tone.
Besides being a critically acclaimed composer and band leader, he has the fortune to work with many notable artists such as Joni Mitchell, Chaka Khan, Lou Donaldson, and many others. Charette, is also an active author and educator, writing for Keyboard Magazine, DownBeat, and Czech magazine Muzikus. Charette teaches masterclasses all over the world, and is on the faculty of the Czech Summer Jazz Workshop at Jesek Conservatory in Prague. In late 2014, Charette published his first book, "101 Hammond B-3 Tips: Stuff All The Pros Know And Use" (Hal Leonard)
When not touring the world, Charette resides in the lively East Village of New York City. Outside of making music, Charette is passionate about chess and White Crane kung fu, in which he holds a black sash.