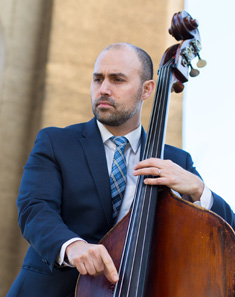 The growth is noticeable and rapidly ascending, as bassist Peter Brendler makes his second record for Posi-Tone, titled Message In Motion (2016). Brendlerís working band continues to gain interest from their debut, Outside The Line (Posi-Tone, 2014), and have added the extraordinary guitarist Ben Monder on four tunes to keep the excitement level high. This album expands the horizons of what is the typical small group sound. With bassist Brendler, saxophonist Rich Perry, trumpeter Peter Evans, drummer Vinnie Sperrazza, and guitarist Monder, this new album delivers an ambitious and open sounding performance full of wonderful compositions and musical moments.
In 2013, Brendler garnered attention with the release of a duo album with guitar legend John Abercrombie. titled The Angle Below (SteepleChase). This highly acclaimed project introduced the world to Brendler shining a bright light on his skills as a musician of the highest caliber and setting his career as a leader in motion.
Brendler grew up in Baltimore, Maryland, where he began his musical studies. He received his Bachelor of Music degree in 2001 from Berklee College of Music where he graduated Magna Cum Laude. While at Berklee, Brendler was selected by the bass faculty to receive the John Neves Scholarship: a merit based scholarship awarded to an upright bassist who shows outstanding promise and commitment. During his time at Berklee, Peter performed extensively throughout the Boston area, and studied with such greats as Hal Crook, John Lockwood, and Bruno Raberg. After completing his studies in Boston, Peter relocated to New York City. Brendler returned to school from 2002-2004 and earned his Masters in Music from the prestigious Manhattan School of Music. While at MSM, he studied with famed bassist, Jay Anderson, as well as other musical luminaries such as Dave Liebman, Garry Dial, and Phil Markowitz.
Brendler has made numerous sideman appearances on various recordings of all styles. He has also performed at several world famous venues in New York, and throughout the country including Smalls, The Blue Note, Birdland, Zebulon, The Jazz Standard, Sweet Rhythm, The Kennedy Center and the 55 Bar. Brendler has also performed throughout Europe and Asia. Brendler has performed and/or recorded with artists such as Victor Lewis, Barry Altschul, Darren Barrett, Jeff Hirshfield, Frank Kimbrough and Jon Irabagon.