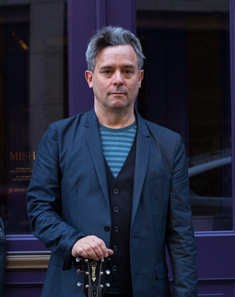 Guitarist Will Bernard shows his brilliance with his latest record titled "Out & About." In his second record for Posi-Tone, Bernard demonstrates his roots in jazz and swings with an elite group of musicians, including John Ellis on saxophone, Brian Charette on organ, Ben Allison on bass, and Allison Miller on drums.
Bernard, a Berkeley, CA native and Brooklyn transplant, began playing and recording on an international level as a member of Peter Apfelbaum's Hieroglyphics Ensemble, who made their recorded debut with Don Cherry on "Multikulti" (A&M 1989). Since then, Bernard has participated in a host of boundary stretching groups, ranging from jazz, hip-hop and world music to experimental music, with many stops in between. In the 90's Bernard recorded and performed with many projects under the direction of acclaimed producer Lee Townsend and worked with groups ranging from the Hindustani-influenced Jai Uttal to the political hip-hop group the Coup. The most commercially successful of these projects was the group T.J. Kirk (with Charlie Hunter) whose sophomore album "If Four Was One" was nominated for a Grammy in 1997.
Bernard broke out as a bandleader in 1998 with the release of "Medicine Hat" (Antilles/Polygram), showcasing his expert chops and flair for funky, bottom-heavy soul-jazz. He then followed up with two self produced albums ("Motherbug" and "Directions To My House"), before making two albums on Palmetto Records ("Party Hats" and "Blue Plate Special"). "Party Hats" garnered a nominated for a Grammy Award in 2008 for best contemporary jazz album. "Blue Plate Special" includes performances by Stanton Moore, Andy Hess and John Medeski. In 2011, Bernard released an organ trio record titled "Outdoor Living" to positive reviews with his own genre-bending groovy style. In 2013, Bernard made his seventh album as a leader, titled "Just Like Downtown" (Posi-Tone). It featured John Ellis on tenor sax and bass clarinet, Brian Charette on organ, and Rudy Royston on drums.
As a touring artist, Bernard has been a constant on the scene, performing in his own band or as a member of the Stanton Moore Trio, Robert Walter's 20th Congress, Groundation, and numerous other lineups. Bernard has performed at The Monterey, North Sea, SF Jazz, Bumbershoot, Be-Bop and Brew, Montreal, Vancouver and The High Sierra festivals, as well as clubs across the country and through Canada. He has performed or recorded with Herbie Hancock and the Head Hunters, Jimmy McGriff, The Funky Meters, John Scofield, Medeski, Martin and Wood, Ziggy Modeliste and the Charlie Hunter Quartet, Dr. Lonnie Smith, Tom Waits, Ben Sidran, Dr. John, Booker T. Jones, Millennial Territory Orchestra, Adam Deitch, George Porter Jr., Zigaboo Modeliste, Global Noize, Greyboy Allstars, Galactic, Medeski, Martin and Wood, Mike Clark, Idris Muhammad and others. As well as leading his own groups, Bernard performs regularly with the New York collaborative electro-funk band "Pleasure Drones," the W-Beez (With Wil Blades), Rockamovya (With Leroy "Horsemouth" Wallace) and Peter Apfelbaum's Sparkler and Groundation side project.