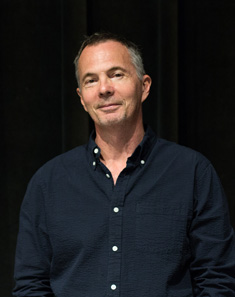 Pianist, composer, and scholar David Ake's latest musical work is titled Humanities (2018 Posi-Tone). This album musically reflects Ake's latest chapter of his life, including his move from Cleveland to Miami in 2015, as well as his ruminations on the importance of critical thinking in the current "post-truth" political climate. As with his previous Posi-Tone release Bridges (2013) and Lake Effect (2015), Ake collaborates with the some of jazz's highest caliber musicians: Ralph Alessi on trumpet, Ben Monder on guitar, Drew Gress on bass, and Mark Ferber on drums.
Born in 1961 in New Haven, CT, Ake, moved to Chicago's northwest suburbs when he was five years old. It was here where he began classical piano lessons at age eight, played in rock bands in high school and experienced the Chicago area's incredibly diverse live music scene in the 1970s. Late during his high school days, Ake heard Keith Jarrett's "Solo Concerts: Bremen/Lausanne," which set him on his course, and he soon headed to the University of Miami to study piano with Vince Maggio and composition with Ron Miller.
After graduation, Ake moved to Munich, Germany, and began playing in numerous bands as a leader and sideman. Ake also began touring, including an amazing month-long stint in Cairo, Egypt (1984) playing alongside drummer Clifford Jarvis.
In 1985, Ake attended the California Institute of the Arts, where he studied and played with flutist/composer James Newton and the legendary bassist Charlie Haden, as well as fellow students Scott Colley, Ravi Coltrane, and Ralph Alessi. Ake graduated in 1987 with a Master's degree in Jazz Studies. His passionate progression led Ake to New York in 1990, where he played with Ben Allison, Jeff Ballard, Gerry Gibbs, and other local stalwarts.
It was back to L.A. in 1994 for Ake to begin graduate studies in ethnomusicology and musicology at UCLA, where he earned his Ph.D. in 1998. It was in this period where Ake met producer Marc Free and recorded his debut record Sound and Time (1998 Posi-Tone). Ake also appeared on another record for Free's Posi-Tone label, Phil Farris's Sun Sound (1998 Posi-Tone), recorded live at The World Stage, drummer Billy Higgins' club in L.A.
1999 brought another chapter to Ake's life, when he moved to Reno, Nevada, to become part of the faculty at the University of Nevada, Reno, where he served as Director of the School of the Arts, among other roles. During his time in Nevada, Ake published two books, Jazz Cultures (2002) and Jazz Matters (2010), as well as one co-edited collection, Jazz/Not Jazz, through the University of California Press. In 2005, Ake recorded the solo piano record In Between (Posi-Tone). Ake is also part of the group EEA, with Peter Epstein and Larry Engstrom, which released The Dark (2010 Origin) to critical praise. After two years as chair of the Department of Music at Cleveland's Case Western Reserve University, he moved to South Florida, where he now serves as Professor and Chair of the Department of Musicology at the University of Miami's highly acclaimed Frost School of Music.